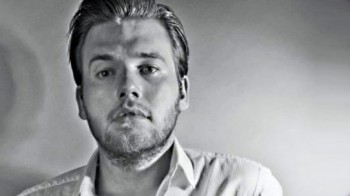 – SOUND CONTROL, MANCHESTER –
There's a Ziggy Stardust moment at tonight's concert, about half way through. Liam Frost – who seems to be thoroughly enjoying himself on stage -suddenly says, between songs: "this is the last time I'm going to be singing these songs and doing this for a while".
I pretty much spit my Guinness all over the back of the fine young gentleman stood in front of me… it's the last time you're going to do what in a what now? A creeping fear envelopes me through the rest of the set, at points spilling into outright rancid panic: Satan's Paisley Pyjamas… what did he just say?
Is there a medic in the house… we HAVE A MUSICAL EMERGENCY! But we're getting ahead of ourselves. Tonight is special, one-off night – Liam curating an evening formed of artists he has chosen, before taking the stage himself with something of a makeshift band (his previous, The Slowdown Family, seems to have slowed down to a stop and become somewhat dysfunctional as a family).
It's Liam's birthday and he appears on the stage clutching a can of Stella, informing the audience he's been, shall we say, enjoying the day. Then he plugs in his guitar and launches into a truly fabulous set, built of tracks from his two albums – 'Show Me How The Spectres Dance,' and the more recent 'We Aint Got No Money Honey, But We Got Rain,' a title of a Charles Bukowski poem.
Liam thunders through tracks like 'The Mourners of St Pauls, Road Signs and Red Lights, Shall We Dance, Held Tightly In Your Fist, Two Hearts'-folky-indie-rocky-poppy – whatever the hell label you want to slap on them…just good, good songs, well constructed with grown-up lyrics that form poems themselves.
Although the band isn't as tight as they might be, the quality of the songs fills the attic room of Sound Control, a perfect space for a gig like this. The club's owner is an old friend and over drinks beforehand he tells me all about the venue's sound system, which they brought over from Scandinavia.
If you haven't already, you need to get your tush down there and tune your ears into a truly decent PA system – certainly a step up from the last time I saw Liam Frost, opening the 235 Casino.
At the end of the show, Liam comes out to chat to the crowd –especially sweet considering it's his special day. I seize the chance to chat to him and allay my nerves. He explains his statement on stage.
It seems it's the end of Liam Frost as a solo entity as he's forming a band – quite a kooky concept after two well-received solo albums. But if that's how he wants to play it that's fine – as long as we still have him around, and he doesn't lose too much more weight and disappear entirely. If you've seen the photos in the sleeves of his two albums you'll see how much thinner he's become.
Yep, these days there's a lot less of Liam. And we need to see a lot more…