Not only is Thomas Truax a talented songwriter and musician, he is also an inventor of probably the most bizarre looking instruments you could possibly imagine. Now the tricky thing for me to do here is explain what each of them does, but I shall try my best. Apart from his guitar and loop pedals, the most used of these is Sister Spinster.
She (as he likes to refer to her) is the percussion and back beats for a majority of his songs. As you can see above she is a rather strange looking creature, but the bumps, bangs and clicks she creates as her main wheel spins are amazing. Most of her parts and extremities are adjustable, along with the speed at which she rotates.
Next up is The Hornicator. This started life as your bog standard gramophone horn, but has since had an upgrade. Now included is a set of strings that can be played with a violin bow, a kazoo and microphone. As with all of his instruments it is connected to the loop pedals, which means he does not have to play each individual part at the same time. Along with the uses I have listed, it can be used as percussion too, by being tapped on the metal casing with his ringed finger it creates a clicking sound, and alternatively by patting it with his hand you get a duller thudding sound. To play the kazoo and also to create vocal loops, the whole of his face will often be buried deep into the horn, which can make him look like a strange half human half elephant mythical character.
 The Backbeater (no pic). The title of this one gives a helping hand to my description, it basically does what it says on the can. When switched on it spins around on his back to create added percussion. On the end of some of the spokes are small LED bulbs that make it look like some kind of alien scanner.
The Stringaling. The two main parts to this are a small bongo-like drum with a trailing tumble drier tube underneath, that can change the sound depending on how long you let it trail. Also included is what seems to be the inside workings of a musical box with the winding handle protruding from the side.
Now I have attempted to explain the instruments to you, I can get down to tonight's gig.
***************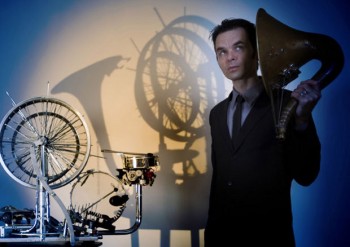 Up on the second floor in this tiny room with the stage taking up almost a quarter of the floor space, Truax introduces us to Sister Spinster whilst he sets her hammers into place. Once she is set in motion, he reaches for the Hornicator for tonight's opening song, The Cannibals Have Captured My Nicole Kidman. For the next song Stranger on a Train, Sister Spinster is set to a much faster pace for this almost country styled offering. As suggested in the title, this is all about the joy and misery of travelling by train.
When the cogs finally stop beating we are given Inside The Internet, in which Truax shows he can perform beautifully with or without his home made devices. The next two are taken from his latest album Songs From The Films Of David Lynch. Firstly is the instrumental Audrey's Dance which is from Twin Peaks and the second being Blue Velvet, to which the small crowd let out a few woops and cheers when he starts. In both of these he manages to keep much of their original charm, whilst at the same time adding his own quirkiness.
As I have seen his performances on two previous occasions, I was very much hoping he would perform Full Moon Over Wowtown. Not only is this a great song, but I know what is to come once started. On the end of his now unplugged guitar, is a small torch that shines on the ceiling to create the effect of moonlight, which he then uses as the centre of attention whilst singing.
 As he plays his guitar, the light then starts to move around and he proceeds to follow it wherever it may go. This brings him off the stage into the crowd, then out onto the smoking balcony, down the stairs to the other bar, where I presume many of patrons are wondering what the hell is going on. Back up the stairs and then even up to the toilets. Once back in our small room, he then perches on the end of the bar, whilst still singing and playing. With a little bit of foot room available, he manages to stand on the bar before jumping back to the ground. As his guitar playing speeds up he ends up just spinning around on the spot to the point of dizziness before ending the song.
The closing song for tonight is I Close My Eyes and even though throughout there have been a few instrument malfunctions; none of this seems to have been a problem for any of us lucky enough to be here.