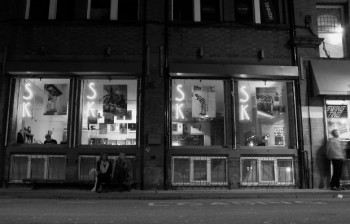 VENUE NAME: Soup Kitchen
ADDRESS: 31-33 Spear Street, Northern Quarter, Manchester. M1 1DF
CONTACT TELEPHONE NUMBER: 0161 236 5100
CONTACT EMAIL ADDRESS: [email protected]
WEBSITE/FACEBOOK/TWITTER: Soup-Kitchen.co.uk  Facebook/soupkitchenmanchester  @Soupkitchen_Mcr
ESTABLISHED/HISTORY: Serving Soup since 2010. Providing the best DJs
CAPACITY: 180
PEAK TIMES OF THE YEAR: End Of Jan – End Of May, End Of Septmber – December
BEERS AVAILABLE: Brewdog, Amstel, Vedett, Heineken, Marble, Hornbeam and many, many more!
LIVE MUSIC CURFEW: 10:30pm Weekends 11pm weekdays.
BAR TIMES: Mon – Wed: 11:00 – 21:00, Thu: 11:00 – 01:00, Fri – Sat: 11:00 – 03:00, Sun: 11:00 – 21:00. Open for food 11pm. Served til 9pm.
REGULAR LIVE/CLUB NIGHTS: BEAT BOUTIQUE, meandyou, SWING TING
BEST ASSET: First and foremost our Soup is amazing but we happen to have best underground club / music venue Manchester has ever seen.
MOST MEMORABLE GIGS: Lots! I BREAK HORSES, RECORD STORE DAY 2012, PSYCMARE BEFORE CHRISTMAS, CAREFULLY PLANNED FEST!
INFO FOR BANDS/PROMOTERS
RECOMMENDED PROMOTERS: Now Wave, DHP, Wotgodforgot, Hey Manchester!, Hear Here, SJM, Carfully Planned.
HOW TO PUT AN EVENT ON: Email event proposals to [email protected]
HOW TO GET TO PLAY THE VENUE: HEADLINE/SUPPORT: Email gig proposals to [email protected]
TICKET POLICY FOR VENUE HIRE: Main tickets sellers http://ticketline.co.uk, http://www.skiddle.com, http://www.seetickets.com
PA SYSTEM DETAILS: Venue spec on request!
SOUND ENGINEER/PA/BACKLINE/OVERNIGHT STORAGE INCLUDED IN VENUE HIRE: Yes. Equipment storage subject to enough space, please check before the show.  Equipment to be picked up before 2pm next day.