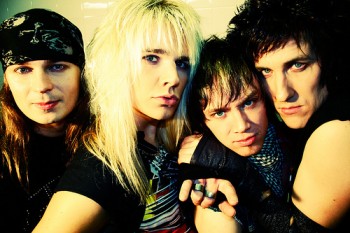 – MOHO LIVE, MANCHESTER –
While the probability of a full-blown glam revival is close to nil, the world will always clear a space in its diary for a balls-out good time. The difference with Reckless Love is that rather than simply exhuming crudeness, tonight's party-loving Finns call on a wide range of 80s rock influences.
Giving a pumped-up Moho Live the complete cycle of their self-titled debut album, the four-piece get off to a potent start with 'Feel My Heat', equal parts 'Welcome To The Jungle' and 'Same Ol' Situation'.
Microphone problems sting power hit 'Romance', but the enthusiastic crowd nails the lyrics and charismatic singer Olli Herman is only momentarily off stride. There's banter aplenty between the charmingly tacky 'Sex', 'So Yeah!!' and 'Back To Paradise', blended (admittedly due to having only one album to draw from) with guitar and drum solos from the axe-wielding Pepe and stick-twirling Hessu Maxx.
The harmonies and pounding beat of 'Love Machine' summons the spirit of peak-form Def Leppard, encouraging Olli Herman to climb up the side of the stage and swing from the roof beams as he belts out the verses. 'Badass' and 'Born To Rock' are by no means unworthy of their titles, while 'Wild Touch' could be a direct reference to bassist Jalle Verne's tongue-protruding antics.
When the lights go down the fans want more, and they aren't to be disappointed. After returning for an encore of killer single 'Beautiful Bomb' and, appropriately, 'One More Time', Reckless Love take a bow and deservedly soak up the applause. Smiles, sweat and lost voices all round on a big-haired, big-hearted night in the city.