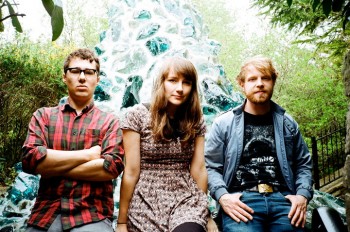 – NIGHT & DAY CAFE, MANCHESTER –
If the Night & Day was a boat it would have capsized by now, such is the weight of people at the back of the room scrambling to get out of the way of Milk Maid. Being hardy souls here at Silent Radio, though, we glide towards the stage-end of the bar, where the four gents in the band essentially represent the evolution of man, so wide-ranging and distinctive are their heights and levels hairiness.
Musically, they're a no frills, few thrills bunch, touching down somewhere between Sebadoh and the pre-lunacy sound of Phil Spector, a description which perhaps gives them too much credit.
The 2nd best band ever to come out of Marple, Dutch Uncles, are up next, with frontman Duncan Wallis wearing his best "hmmm, I thought we'd at least be headlining the Academy 3 by now" expression. A slightly messy 'Face In' from their self-titled début opens proceedings but does at least re-ballast the venue people-wise.
From here on in it's all new material, which despite Wallis' irksome twitches and inflections appear to be every bit as strong as their well-worn tunes of yore, but now with added synth. The trademark, intricate, plinky-plonky riffs remain, while bassist and songwriter-in-chief, Robin Richards, constantly gyrates his hips as though he's been putting in the hours on the hula-hoop mini-game on Wii Fit. A promising return to action.
Now, we have a message for the management. Air con. You made a big song and dance getting it installed a few years back, so turn it on you tight-fisted shits, we're boiling like frogs in here and it's only half full. Right, on with the show.
Leeds trio, Sky Larkin, have grown immeasurably since opening up for Los Campesinos! at the Late Rooms in March '07. The songs were good back then, but now have an admirable arsenal from which to call on, 'Matador', 'Somersault' (as covered by Pulled Apart By Horses, woeful b-side fans) and recent single, 'Still Windmills' topping the stockpile.
Katie Harkin is still cutely coy between songs, "We asked Dutch Uncles to come out on tour with us, like we were asking them out or something," she giggles while cradling her guitar close to her chin and pointing her toes inwards. "They said yeah, so now we're the happiest girls in the world," much to the astonishment of her definitely male bandmates.
The chorus of the pun-tastic 'Spooktacular' is delivered with a cheeky grin on Harkin's face, as though she can't believe she's getting away with delivering such a corny line in front of 100 people, while the smell of Sugar Puffs wafts over the room when she triumphantly raises her arms at the end of 'Fossil, I', quite coincidentally, of course.
A quality performance, make sure you catch them at In The City next month.