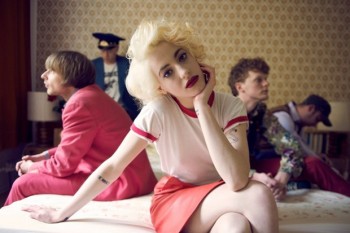 Before you head out to a live show you check your pockets for your ID, your drawers for your gig ticket and your purse to see if you have enough pounds to buy a drink. It's the routine we all know so well. The last thing you'd expect to be doing alongside the scramble for extra cash down the sofa is rummaging through your food cupboards for that tin of tomato soup – the one that's been patiently waiting for 6 months to be devoured or scrambling at the back of your wardrobe for that pair of trousers that is dug out less frequently than your obligatory Christmas jumper. This may be a strange request but it is exactly what Beth Jeans Houghton and The Hooves of Destiny are asking those in attendance to their tour to do. We know bands can struggle on the road and probably live off said tins of tomato soup but these donations aren't for the profits of the band.
"I went through a phase where I wanted to do something good once a day to someone I didn't know. One time I was in town with Blazey who plays guitar in The Hooves of Destiny and we bought a homeless man a cup of tea and a muffin," Beth says. "No one was giving him anything but as we stopped and gave him the tea, we had a little chat with him and during the time we were talking to him about 5 people gave him money or a cigarette."
This encounter proved to be eye opening. One that would prompt the decision to help homeless charities in the cities they'll be visiting during their tour.
"It just sort of struck me that unless people see someone else doing something they will just walk past those people and rather than asking for money, if people get more involved by directly doing something to these people then maybe more people will be aware of it".
As a token of appreciation you'll receive an original drawing by Houghton and the band.  There's no need to lower your expectations to a stickman or something as equally meagre because Houghton designs the artwork for her singles herself including their latest release, 'Dodecahedron'.
"We'll do a lot of drawings anyway when we're on tour and it's something where if it's a one off piece of art no one's going to have the same thing. Maybe that will be of value to someone but it doesn't cost us more than a pen, the paper and the ideas," Beth confesses.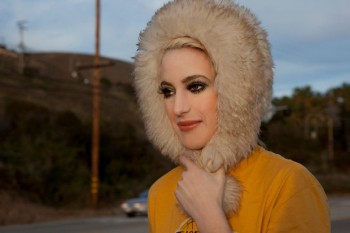 'Dodecahedron' is simply beautiful; the concoction of Houghton's ethereal vocal with the brashness of the male chants creates something truly spellbinding.  During the track Houghton sings, 'My eyes were bleeding with crimson sight', and on learning that she has Synaesthesia you'd expect there to be a correlation between her condition and the song. But does it act as a source of inspiration?
 "No, not at all," Beth firmly admits. "I've had it since I was born. It's just a completely normal thing for me and I've never known what it's like not to have it. I just noticed that I had it one day and it doesn't inspire, it's not a hindrance or a help. Someone once said to me I heard you have this disability in reference to Synaesthesia."
On revealing my own anecdote of a book I'd recently enjoyed called 'Scream' where a boy who has Synaesthesia captures and proceeds to torture his victims until they shout out in pain which in turn acts as a catalyst for him to see a myriad of vibrant colours, something he has yearned for.
"Wow, that's weird. I shan't be torturing or killing anyone," Beth jokes. "But also Calum who plays keys with us has it. I have it with numbers and letters but he sees the music he's playing which results in him being a genius keyboard player, so I guess that's interesting for two people in a band to have it."
There was a time when there was no Calum or the rest of The Hooves of Destiny as Houghton originally graced the stage alone. It's difficult to imagine Houghton solo when witnessing the rapport and camaraderie that the band enjoys together. It would be like watching I'm A Celebrity…Get Me Out Of Here without Dec – unimaginable. However, the transition from solo artist to being part of a band was the resultant of her then manager suggesting they play together – a prospect that was initially met with hesitancy.
"I was really against the idea because I didn't want to have a band because I'm so controlling over my music that I didn't want anyone to ruin it," she confesses. "They came to a few rehearsals and played a show and I haven't played solo since. I don't think I'd dream of it.  I didn't really like playing solo but now it's a real joy to tour."
The collective are notorious for their stage ensemble and it projects a fun image of the band. But what attire can we expect to see on this tour: maybe an abundance of extravagant garments, a cape, a fur hat and faces adorned with flashes of paint?  But most importantly, is the way the band dress integral to their live performances?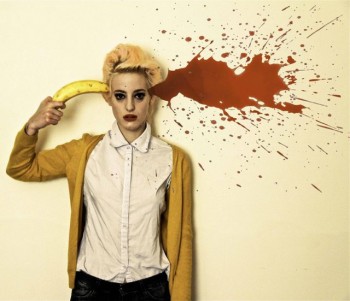 "I think it's just more integral to us because we're  kind of like that day to day really and I think for a while we stopped wearing crazy stuff on stage because it's clear that people were focusing on and writing about what we were wearing opposed to the music," she continues to explain. "After working on a record for so long and spending so much time touring and working on the music for that to then be put completely aside so that someone can talk about someone in a wig, that's sort of heartbreaking."
 'We want to make beautiful music until our hooves come off' is the concluding sentence to an enthralling, mystical tale on how the band met on their Facebook page. Has this been achieved with their debut, 'Yours Truly, Cellophane Nose'?
"I don't know, I don't think about the album a lot really because as soon as I've done something I'll be thinking about the next thing. There's nothing that I would change about it and I do feel like I've proved something to myself that I could do it and that was enough and now I would like to do the next," Beth reveals. "Even when I do listen to it I don't cringe which I used to do with some of the recordings. Like I'll listen to EP's when I was 17 and be like 'oh god no!' but I don't feel that way about this record," she laughs.
The name 'Yours Truly, Cellophane Nose' created speculation that it was in reference to plastic surgery; instead it involved a boiled sweet wrapper and her friend Jess' nose. They anticipated for someone to inform them that she had the wrapper perched on her nose. They didn't. Houghton then wrote on a napkin and signed off with, 'Yours Truly, Cellophane Nose'.  This tale reasserts the humour that Beth owns, a wittiness that comes alive on stage and in interview. Tramlines Festival saw the band divulge to the crowd about a game they often play on tour where they combine well know names with illnesses; their examples included Massive Heart Attack and Jonny Hepatitis C which clearly created ripples of laughter.  It's this kind of interaction and revelry that makes watching the band such an enjoyable experience for the crowd.
"I don't like the idea of an audience watching us; I want them to be involved so I guess that's the way to involve them. I feel like maybe I talk to the audience like how I talk to the band and my friends because I don't tend to feel that there's any difference to the people who are at that place at that time," Beth adds.
The tour comes amid a flurry of other commitments.  From the debut issue of their zine, 'Peppermint Junction' which is naturally about touring hurtling its way toward completion, it's just another task to add to her frantic schedule. The week before tour has involved rehearsing and demoing the next record whilst finding time to photocopy and staple hundreds of pages in order for the Zine to be completed. It doesn't stop there, once this tour comes to a climax the band will relocate to LA, the place that has always been significant to Beth due to her love of West Coast Music from the 60s and 70s and the place where the new record will hopefully be recorded.
"I feel like I always like to have the lights on at shows so that I can see people's faces and I like it to feel more like a party," she says. "I'd rather fifty people who are really happy and enjoy the music come rather than one hundred and fifty where one hundred of them are just miserable. I'd like the happy people to come if you could ask them or people who want to be happy or have a good time. They're the ones I want to see, not the ones who just all judge."
Beth Jeans Houghton and The Hooves of Destiny will play The Deaf Institute on 25th September