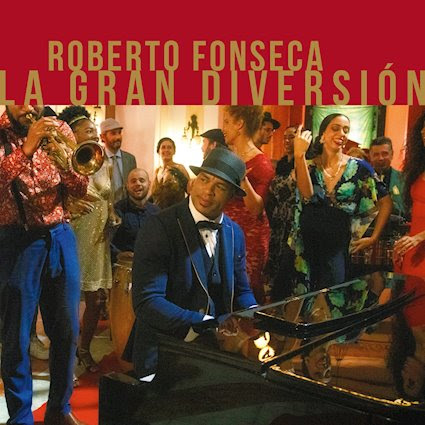 From his early days as a junior virtuoso pianist at the Buena Vista Social Club, Roberto Fonseca has been an accomplished and adventurous performer. Previous releases have seen him blend traditional styles with a variety of modern influences. 2012's '7 Rayos' offered a cocktail of Cuban sounds, classical music, West-African instruments, electronic music and spoken word poetry. He has worked with Baba Sissoko and Fatoumata Diawara in Africa on 2015's 'At Home' album. Most recently, on 2019's 'Yesun' he collaborated with Ibrahim Maalouf and Cuban rap's rising star Danay Suárez.
His latest album, 'La Gran Diversión', is a tribute to Cuban music's golden era, rejoicing in the wild nights of La Havana and Cabane Cubaine, Paris' most famous cabaret of the 1930s. Reverting to tradition might be mistaken for a step backwards by Fonseca but this is an album that bursts with vivacity in its takes on traditional styles. The Mambo, Rumba and Bolero are captured with real verve.
The opening bars of 'Yanim' provide an immediate flashpoint as flamboyant horns blare before Fonseca's piano coalesces with the rhythmic shuffle. It is such a pleasing style in which his playing has a virtuosic quality but is in service to the song, always in accord with his co-instrumentalists. Through the album's ten songs, none exceed five minutes and there is a healthy reluctance to engage in lengthy soloing. It is underpinned by Andrés Coayo's Cuban percussion which is a constant delight, dexterous, subtle and joyful, playing on the off-beat which is one of the stylistic quirks that gives an added jolt to Cuban music.
'Sal Al Malecón' follows which is a tribute to his hometown Havana, referencing the Malecón promenade where he grew up which inspired his music and features some especially deft playing. 'Mani Mambo', with Clarence Bekker on lead vocals, is a celebration of romance and music, the twin trumpets of Roberto García López and Thommy Lowry Garcia which are a constant highlight of 'La Gran Diversión' providing glorious punctuation.
In contrast, 'Oya' drops the pace, allowing Fonseca's piano to go on some minor key wandering while the percussion keeps him on track; it is easy to imagine being in a jazz club and bursting into applause mid-song at his featured solo. 'Cuando Tu Bailas Pa Mi' with Carlos Calunga on vocals reinjects urgency into proceedings conjuring cavorting stylishly across the dancefloor while raising arms to the skies in celebration of the horns which eventually bring the tune to a sudden halt. In contrast, 'Mercedes' is a tender ballad, Fonseca's playing taking on a neo-classical style, the muted horns and Mercedes Cortes' vocals adding a perfect sheen.
'Kinka Mache' features Regina Carter adding sumptuously emotive violin to the blend. Everyone is back on their feet for 'Baila Mulata' which has a 1960s organ sound. With its horn decoration and swirls, it is incredibly infectious and Jorge Chicoy adds some bluesy guitar bars. 'Oscar Please Stop' sees Fonseca backed only by percussion and enables him to showcase playing which is so deft and natural, shifting tempo with ease. 'Osini' brings 'La Gran Diversión' to its conclusion with him stepping away from the piano to handle relaxed yet soulful lead vocals on a moody jazz number featuring trumpets, Jimmy Jaenks' tenor sax and Ariel Vigo's baritone and high sax.
'La Gran Diversión' is a joy throughout, brimming with emotion and the best ensemble playing, an evocative trip to Cuba without the carbon footprint or the technological challenge of having to invent a time machine.
Roberto Fonseca: La Gran Diversión – Out 22nd September 2023 (Wagram Music)