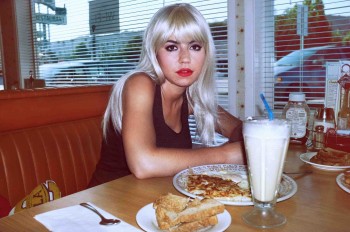 The 25 year old Greek/Welsh singer-songwriter has been very busy over the past few months working on the follow up to her critically-acclaimed debut album The Family Jewels. She's also been touring the USA with Katy Perry.
And now Marina has joined forces with pop-producing duo Stargate to release the end of summer track 'Radioactive'. The song is a stopgap until details of her forthcoming album are revealed. The lyrics are unmistakeably Marina, but with a new sound more suited to the dancefloor than ever before.
Marina commented, "I wrote "Radioactive" in New York in the middle of a heat wave. Introduced to a glittering new nightlife, I fell in love with New York; it has this magic, fizzing white energy that no other city in the world has. I felt happy and was inspired to write a song that felt light and euphoric, a more streamlined, minimalistic style of songwriting. I have changed my approach to songwriting completely, and as a result, written songs I would never have written on my own (i.e on my shit Argos keyboard alone in my bedroom in London). I've been working hard on my new album for a year and a half and hope 'Radioactive' can tide you over until its ready…"
'Radioactive' Will be released on October 3rd through 679 Artists.