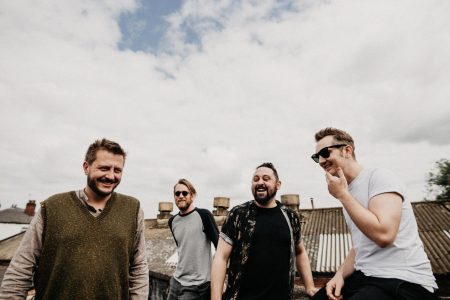 I'm still undecided on album anniversary shows. You know the ones: a band don't have anything new out but in this shit show of an industry they still have to tour if they are to even consider making some cash, so they convene around an arbitrary number of years since a (mostly) beloved album came out that they can run through in its entirety before throwing out a few fan favs and greatest hits as an encore. I get why bands do it, and I get why fans head to the shows, but something about it doesn't sit right with me. Maybe it's the fact that you know what's coming, there are no surprises here, no 'will they play that tune I love', or the shock that the band have played something you adore but were not expecting to hear, the sheer delight and frizz of electricity that runs through you as you recognise the opening notes of the song. At an anniversary album show you know what's coming, so weirdly any sense of anticipation is fizzled out, you could, you know, just listen to the album at home and get much the same effect.
Yet here I am at the still quite new and still quite impressive New Century Hall, to see Sheffield post-rockers 65daysofstatic (65DOS) perform their 2013 album Wild Light in full. Whilst never really hitting the popular highs of some of their post rock peers, 65DOS have always inspired a fervent kind of fandom, with websites dedicated to obscure unreleased material, and even a group of fans referred to as the '65kids', predating Gaga's 'Little Monsters' or the 'BeyHive' by a good decade. Their brand of post rock has always been a little more indebted to dance music than say, Mogwai, with electronics and pummelling drum beats more akin to IDM or breakbeat than a soaring guitar-led Explosions in the Sky tune. It's this that makes them special and helps them stand out from said peers, and in my mind (and no no doubt that of the other middle aged men in attendance), makes them a much more thrilling live proposition than some of the other similar bands around. That's why I'm here. I love Wild Light and am thrilled to hear it played tonight, but I'm mainly here because 65DOS absolutely kick the shit of playing live, and it's an exhilarating watch.
Take 'Blackspots' for instance, an intense mash up of pummelling noise and glitching electronics that wouldn't sound out of place if Aphex Twin dropped it in the middle of his set. You can dance to 65DOS. It's astonishing to see drummer Rob Jones in full flight, arms a blur as he pounds intricate rhythms that propel the bands best tunes, and he earns his money alone during this track, it's almost exhausting to watch him. 65DOS have always been more than the usual quiet-loud-quiet post rock dynamic, frequently just cutting out the quiet to do the loud to thrilling effect (praise be to ear plugs – protect your hearing kids!), but there moments where the oscillating noise levels are put to great effect, as on the album closer 'Safe Passage', which after its gentle introduction bursts into life with sunbeam like shards of synths and guitar shreds illuminating the hall, filling it with joyous, all consuming walls of beautiful noise. Band leader Joe Shrewsbury tells us that the album was written 'about the end of the world, and it certainly is – let's enjoy our final moments together', and with eyes shut, swaying to the final strains of 'Safe Passage', it's easy to believe that this are the final moments of bliss, the sounds washing through me as we hurtle towards our inevitable demise.
Like a theatre show, there's a short interval before the band return for a second career spanning set – yet this is no mere encore, it's another full 45 mins of bangers bringing the total gig to approaching 2hrs, value for money in these austere times. There's 'Retreat! Retreat!' and 'Install a Beak in the Heart That Clucks' (hello post-rock song titles) from fan favourite The Fall of Math, a thoroughly uplifting 'Debutante' from We Were Exploding Anyway', and a skyscraping 'Asimov' from *holds breath* No Man's Sky: Music for an Infinite Universe amongst others. The band are clearly having a fantastic time along with the crowd, which if a little sparser than I thought it would be, is fully into everything the band are throwing at them. They seem a little looser, a little more relaxed in this second set, as though the shackles of an album show have been removed and they can fully let fly, and it's a delight to see. I really enjoyed the Wild Light section, but I loved the second set more; live music should be unpredictable and album shows remove some of that element for me. So still undecided on that, but decidedly ready to face the end of the world with 65DOS's incendiary noise still reverberating through my cells.