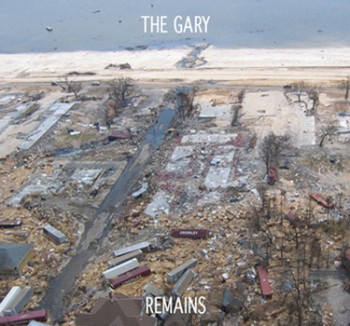 2012 marks the fourth release by Austin , Texas trio The Gary, an LP titled 'Remains', the follow-up to last year's Albini-recorded 'El Camino' EP. This also marks their first full-length since 2010's acclaimed Logan.
The Gary began in 2008 as an informal gathering three friends with instruments, with no more ambition than to get together and break up the monotony of the workweek. Somewhere, between the discussions of music, family, favorite beer, and job-related woe, songs began to form, resulting in the 'Chub' EP, a 7 song document of "blue-collar angst and disillusion" released in 2009. Upon an outpouring of regional interest, The Gary quickly established themselves among the burgeoning Austin music scene, and their debut EP began to receive accolades from both local and national press, much to The Gary's surprise.
Songs continued to accumulate, and an LP materialised- 2010's Logan. The album was well-received, and The Gary began taking their act on the road. While in Chicago, they checked into Electrical Audio studios and recorded a session with Steve Albini. This was released in early 2011 as El Camino. Shortly after the release of El Camino, the band was invited to tour with Martha's Vineyard Ferries, a "summer fun band" featuring Bob Weston (Shellac, Mission of Burma) and Chris Brokaw (Come, Codeine).
The Gary did two recording sessions- one in August 2011, the other in March 2012- in Denton TX at the Echo Lab with Matthew Barnhart of Tre Orsi behind the console. Both of these sessions make up their new LP 'Remains'.
'Remains' will be released through Sick Room Records on October 15th