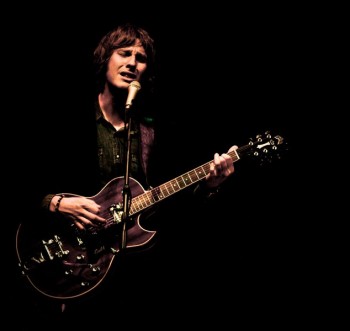 – BAND ON THE WALL, MANCHESTER –
Scott Matthews, a relatively unknown singer-songwriter is back on the 'ole wagon' to promote his third studio album 'When The Night Delivers'. Having only heard the track 'Elusive' which propelled him into the lime light – although maybe not enough. I signed up to my first 'session'. consequently, I then proceeded to listen to all of his albums, several times over. He can easily be compared to the likes of Nick Drake or Jeff Buckley. At first listen, his music seems to bear the fruits of really good production, which it is; however his astute grasp of the dynamics of music quickly became apparent.
I spoke to a few people that night, who told me they had seen him several times on other tours, which have mainly been attended by only a handful of avid followers. This gig however, at Band On The Wall, is packed. Although it is full it maintains a genuine level of intimacy; which is often described as 'living room-esque' or 'intimate' but such a phrase begins to lose its validity. The whole gig has a mixture of his comical character; often using a variety of accents to analyse himself in third person. "Now, now Scott we're at a gig, must act professional dear boy", this slots between his captivating blues and folk songs performed in-turn with his guitar, alongside a mandolin and drums, his vocals stretch several octaves and his heart sits behind the every hit of every syllable.
Throughout the gig there was the usual voice in the crowd, the one who had premonitions of which song Scott would play next and sure enough she guesses it right. Every. Time. In comical spite, he tried catch her out (although she was right in the end) and begun to improvise a song directed at her "Girl, you always know what I'm doing, how about now? How about – when I'm pooing?" Although his lyrical genius didn't shine through with that lil number, the core of his relaxed nature did; He isn't pretentious or egotistical, neither is he in anyway shambolic; guiding applause to each member of his musical entourage at the end of the night. A better name might have been 'An evening Scott Matthews and friends'. If you have the chance to go and see him play live – Do. If it's just your ears that are aloud to listen – I'd definitely give him a whirl on the old boombox.