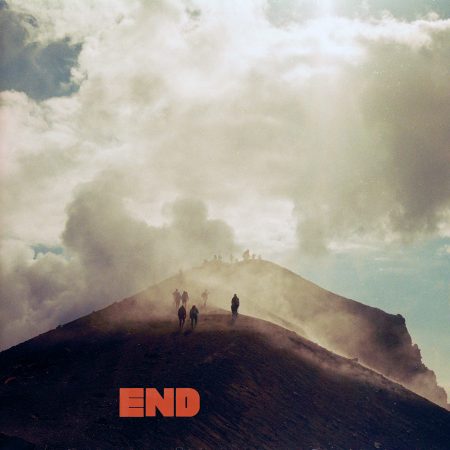 Plenty of new releases to feast upon in Silent Radio's weekly guide.
Explosions in the Sky      End       
Perhaps the grandest Explosions in the Sky album to date – melding the quiet restraint and crushing weight of their early recordings with the aural exploration and ornate experimentation of their later works (while incorporating their increasingly deep film and television scoring catalogue).
Robert Rotifer                   Holding Hands in Petropolis      
The title references the 1942 death of Austrian Jewish writer, Stefan Zweig, and his wife. An album of intricate arrangements about the right to despair but also full of humour, featuring guest vocals from Helen McCookerybook and Amelia Fletcher.
Ash        Race the Night 
On their first album in five years, Ash combine the rock riffs of 2004's Meltdown album with the melodic mastery of its 2001 predecessor, Free All Angels.
Margot Cilker    Valley of Heart's Delight              
The title refers to somewhere Margo can no longer return to, California's Santa Clara Valley, AKA 'Silicon Valley', a place whose orchards have long been paved over in the pursuit of technological advancement while the album features a band who have contributed to records by The Decemberists, Band of Horses and Beirut.
Woods                  Perennial           
Woods utilise loops to traverse categories like lo-fi and freak-folk and psychedelic and indie. This album emerges from their reflection that perennial plants and flowers are nature's loops.
Vinny Peculiar   How I Learned To Love The Freaks
Inspired by Hippy culture, the summer of love and the socio-political awakenings of the late 1960s, the record is a tribute to an emerging free-thinking youth culture, the risks they took, the values they espoused, the sacrifices they made, their failings and ultimate implosion that culminated in the "Death of the Counterculture". Over its ten tracks of fuzzy, psychedelic-tinted rock'n'roll, the new album looks at the personal impact of these cultural shifts and its impact on subsequent generations.
Yann Tierson      Kerber Complete            
A boxset containing 4 different versions of his 2021 album including a solo piano version, remixes of it plus Tierson's remixes of such wide-ranging artists as NEU! and Keeley Forsyth.
Blair Davie          It'll Be Lovely    
Non-binary artist with an EP that deals with self-acceptance, their bisexuality, anxiety, loss, and heartbreak; but also the beauty that life can offer.
Jaws      If It Wasn't For My Friends, Things Could Be Different EP              
Birmingham dream-pop four-piece fusing fresh, feel-good guitar melodies with fuzzier moments of introspection that grapple with the gratitude and guilt that comes along with close-knit friendships.
Vagabon              Sorry I Haven't Called   
Artist who is on tour this autumn with both Arlo Parks and Weyes Blood channels dance music and effervescent pop through her own confident sensibilities in conversational songs.
Strabe   How Our Love Grows    
Debut album from alt-pop duo with a bright, bittersweet exploration of grief, growth, gender, and personal evolution.
Muva of Earth                   Align with Nature's Intelligence
A blend of spiritual mantras and conscious lyricism, her music fusing afro-futurism, jazz and classical.
School Disco                      Denton Rock     
A band that takes influence from Black Sabbath, Can and sci-fi literature alike produce an album about how the government has failed a generation.
C.O.F.F.I.N.         Australia Stops 
Band who have toured with Amyl and the Sniffers exhibit frenzied, high-voltage guitars, thumping rhythms, flowing melody and clever, captivating lyrics exhibit progression in composition and songwriting.
Princess Goes    Come of Age     
Brooding electronic trio featuring actor Michael C Hall from Dexter and Six Feet Under.
Advertisement                 Escorts 
Difficult to google band who shift from glossy, leather-doused glam rock to glitching, Kraut-inspired spirals, Scott Walker-tinged empty pub revelries to industrialized club loops.
Dan + Shay          Bigger Houses  
Fifth studio album from the only act to win the GRAMMY Award for Best Country Duo/Group Performance three times consecutively.
Trevor Hall          Trevor Hall and the Great In Between   
Future folk recorded in his barn-come-studio in his backyard.
J Foerster / N Kramer     Habitat II            
Berlin experimental duo's exploratory work guides the listener through a psychogeographic labyrinth based on the conceit that each track represents a room in an imagined building.
Buffalo Nichols                 The Fatalist        
Blues artist with low, gutteral voice who incorporates modern elements (808 programming, chopped-up samples, washes of synth) while retaining authenticity.
Eldridge Rodriguez          Atrophy              
Veering away from the electro-rock and poli-power pop of their last two releases in favour of a slacker indie feel while still incorporating the noise pop, the track 'Scars in the Vein' features guest vocals from Thalia Zedek (Live Skull and Come).
Sextile                  Push     
Push bounces and bops at the fringes of hardcore dance music, with the hallmarks of drum & bass, gabber and trance.
HeadCat               Walk the Walk Talk the Talk       
Supergroup including Motorhead's Lemmy and Stray Cats' Slim Jim Phantom. Originally released in 2011, it concludes covers of Chuck Berry, Eagles and Beatles songs together with a couple of original compositions.
HeadCat               Live in Berlin     
A previously unreleased live concert which was recorded at the Huxley's in Berlin, Germany on 18th October 2011
HeadCat               Dreamcatcher  
Recorded at the Dreamcatcher theatre at the Viejas Casino in Alpine CA on 1st Feb 2008.
Mae Muller        Sorry I'm Late
17 song albums from UK's Eurovision entrant exploring love and loss, dating and relationships with fearless honesty.
Sarah Jane Scouten         Turned to Gold
Canadian folk-country artist with road-trip-salt-air filled fourth studio album.
Man Alive           Colours EP          
Mark Prendergast of Kodaline's new project draws on an array of sonic touchpoints.
Caicos   Asecension Intention   
The solo project of Alex Frenkel of New York indie band Gospels utilises his wide-ranging sonic palette in a pandemic written album that poses existential questions centred on purpose, priorities, pressures of contributing to the legacy of your ancestors, and the inevitability of personal evolution with the passage of time.
Briscoe                 West of It All     
Americana roots rock band with a tuneful but melancholic collection.
Jack Valero         This is a Nightmare EP  
Retro sounding collision of British songwriting with American rock.
Yowl      Milksick              
South London five-piece's intense proto-punk and swooning balladry a curdled, anxiety-riddled reaction and a bitter antidote to our times
Bombino             Sahel    
The first Grammy nominated artist from Niger. The title takes its name from the vast African region spanning East-West from the Atlantic Ocean to the Red Sea..
Tyler Booth         Keep It Real EP 
Artist who creates sounds that parallel old blues music like BB King, as well as Texas country such as Waylon Jennings, Willie Nelson, Jerry Jeff Walker.
Gum      Saturnia              
Jay Watson of Pond (and touring member of Tame Impala) attempts to answer the questions what would happen if Stevie Wonder recorded a hair metal track, or if Barry White had scored a Pink Floyd album?
Brian Seltzer      The Devil Always Collects           
Latest album from the founder of the Stray Cats who took two forgotten genres, rockabilly and swing, adding his own blend of gunpowder and rockin' style. completely reinventing them in the process.
Mayhem              Daemonic Rites
Sixteen track album from Norwegian black metallers.
The Holy Ghost                 Ignore Alien Orders       
Swedish band inspired by the American underground scene of the 80/90's, especially bands like Hüsker Dü, Dinosaur Jr, Rites Of Spring, The Replacements,
Rocket King        Paving the Way
Band with three ukeleles in their line-up producing a cocktail of Belle and Sebastian, The Cranberries and The Beautiful South.
Benny The Moth              The Rise and Fall EP       
An EP from a band that combine elements of reggae, dub, punk, ska and rock with a dash of Latin and Jazz to their music.
LEWCA                  Boombap for Boomers 
English singer-songwriter now based in Paris who borrows musically from the likes of  The Clash, The Streets, Ian Dury, ASAP Rocky, the Sleaford Mods, LCD Soundsystem, Bob Dylan, Eminem and Tom Waits.
Busted                  Greatest Hits 2.0             
A revamped compilation including a version of 'Year 3000' with The Jonas Brothers and collaborations with McFly, James Arthur, You Me At Six, The Vamps, Bowling For Soup, Dashboard Confessional, Deaf Havana and Wheatus.
Bonnie Tyler      Faster Than The Speed of Night
40th anniversary reissue of the Jim Steinman produced album which spawned 'Total Eclipse of the Heart'.