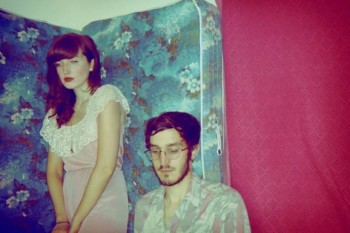 After a single, an EP and a couple of online tracks, London duo Jeremy Warmsley and Elizabeth Sankey – better known as Summer Camp – are finally unveiling their deliciously idiosyncratic, gloriously kaleidoscopic vision of pop with their debut full length "Welcome to Condale", released on their own Apricot Recording Company imprint, in conjunction with Moshi Moshi and Pledgemusic.
Taking its cues from teen films from the 80's, "Welcome to Condale" unfolds, appropriately, in cinematic fashion, attempting to bring to life a cast of misfits and prom queens, loners and lovers all going through crises of the heart. Listeners may already be familiar with some tracks – "Ghost Train" reappears for instance, as does "Summer Camp" but, as the upcoming single "Better Off Without You" proves, Summer Camp have much more up their sleeves.
Working with Pulp's Steve Mackey, Summer Camp have gone from dabbling in nostalgic golden tones to painting with a whole vibrant palette of colour. There's the claustrophobic menace of "I Want You", for instance, with its shuddering synths and obsessional lyrics ("If I could I'd squeeze your hand so tight that every knuckle would crack/ I'd wrap my arms around you and snap every bone in your back"), while, on the opposite end of the spectrum, "Losing My Mind" marries an infectious, whistle-worthy chorus with a tale of love gone sour, with Warmsley and Sankey singing "well this house isn't big enough for the both of us/ if you want to leave, I suppose you must". The title track meanwhile, with its protagonist's grand dreams of small town escape, simultaneously attempts to be aching and romantic, its underlying sense of melancholia only spurred on by Warmsley's C86 indebted, elided guitar strokes. But it is the majestic closing track "1988" that sums up Summer Camp's sensibilities. Keyboards twinkle and shimmer as Sankey belts out the simple yet chest-swelling refrain "hold on to me/ and I'll hold on to you", and their entire cast dance in unison at the high school prom as the credits come up.