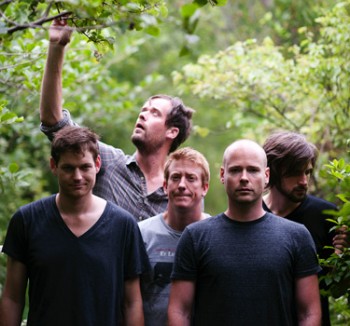 Beverly post-rock quintet Caspian will release their new full-length studio album 'Waking Season' on 24th September through Triple Crown Records.
Co-produced by Matt Bayles, former keyboard player from Minus the Bear and producer for such seminal albums as Isis' 'Oceanic', Botch's 'We Are Romans' and Mastodon's 'Blood Mountain', 'Waking Season' is the follow-up to Caspian's 2009 album 'Tertia' and marks the first time that the band has worked with an outside producer as well as the first time the group has incorporated vocals into their arrangements.
"We wanted to shake things up and work in a different type of environment – the kind of environment where it wasn't just us calling the shots all the time. Working with someone who had the credibility to challenge the way we heard the songs outside of our own bubbles was extremely important to us for this record. Matt has a way of pulling the pieces together to make them sound crystal clear, sharp and balanced without removing any raw energy from a track. Working with him was a humbling and enlightening experience and we feel like it really benefited the album," said Caspian's Philip Jamieson.
Originally formed by four friends as an outlet to "hang out, high five and make noise," Caspian has evolved into an internationally renowned band that has put out three studio releases – 'You Are The Conductor' (EP/2005), 'The Four Trees' (LP/2006), 'Tertia' (LP/2009) and performed over 500 concerts in 30 countries on 3 continents.
To celebrate the forthcoming release of 'Waking Season', Caspian has posted a free download of their 'Live At Old South Church' album at www.caspianmusic.net.  The album was recorded at a benefit concert for Amirah, a non-profit organization located in Boston that is dedicated to providing whole-person care for the victims of human sex trafficking.