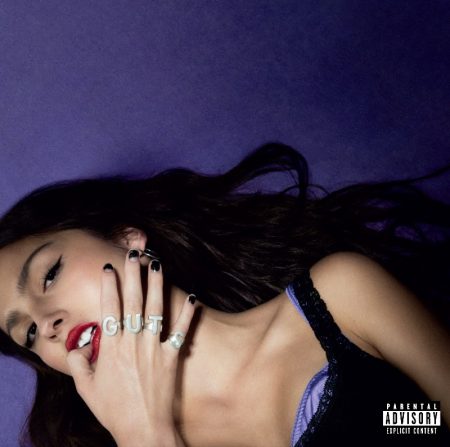 Leaving her name stuck inside everyone's mind, Olivia Rodrigo continues to storm her way through the music industry. A child-star from Disney suddenly turned to an international music sensation after the release of her 2021 album, 'SOUR', which took over each and every break-up playlist, and handed over the much-loved tracks 'drivers license' and 'deja vu'. With nearly 60 million monthly listeners on Spotify, it's obvious that the wait for Rodrigo's second album, 'GUTS', is one that has been forcing patience upon many people. Luckily, we don't have to wait any longer.
It's only right that 'vampire' is played multiple times a day across radio stations far and wide. What starts as a soft, solemn ballad quickly develops into one big, rageful 'screw you', screaming the thoughts that just about everyone has felt towards someone else. About halfway through the song, Rodrigo adds fuel to the ever-burning fire of this track, throwing an energetic bolt into the melody with exasperated lyrics to match. "You can't love anyone, 'cause that would mean you had a heart," leaves me holding my breath. Mirrored in the beautifully constructed music video, this is where we see the heartbroken lead escaping from the danger of the set that she was once held on, almost as if her music is what saved Rodrigo from the wounds that originally plastered her skin. Not only is she talented in music, but her music videos are never short of incredible.
'lacy' has been named Olivia Rodrigo's 'most beautiful' song by many of her die-hard fans. Through a gentle melody, we hear of a troubling story coated in loathe and jealousy, praising the muse of the track with poetry like, "Sweetest torture one could bear," and, "Dazzling starlet, Bardot reincarnate." In the final lines of the song, this admiration turns sour, finishing with, "I despise my rotten mind and how much it worships you," reflecting on the regrettable envy that we have all been smothered by at least once.
On a much more upbeat note, 'get him back!' arrives with a catchy beat and an overall empowering feel, proudly broadcasting the toxic scenario of wanting to rekindle a destructive relationship. "I wanna break his heart, then be the one to stitch it up," perfectly describes the majority of modern relationships, along with the rest of the twisted fantasies that form the bridge. We all know of Olivia Rodrigo's talent when it comes to creating break up songs, but this edgy, passive-aggressive anthem is a new forte and I, for one, love it.
'love is embarrassing' follows straight after, maintaining the energy with bold guitar entwined with the lyrics. So many of the tracks from 'GUTS' hold elements of pop-punk music, and this one really brings it to light. I feel as though the experimentation with a different genre than the typical is really what makes this album so enjoyable to listen to, giving something unique compared to all the monotone, repetitive music that's currently popular.
The finale of 'GUTS' delivers the magic that is 'teenage dream', a heartfelt song to finish off this rollercoaster of emotions. Singing of the difficulties in growing up and her personal troubles with the subject, the track is one that an unfortunate number of people will be able to relate to. However, Rodrigo has made this incredibly special. Instead of being left feeling isolated and mediocre, it's almost relieving to know that other people, including Rodrigo, deal with these feelings too. Olivia Rodrigo knows how to send positive messages with her music, and she does it in the most perfect way.
'SOUR' was enough to make everyone find themselves besotted with Olivia Rodrigo, but 'GUTS' has only made that feeling stronger. She is an artist that hasn't forgotten her humanity, and can play around with different ideas, while absolutely nailing anything – could you want anything more? Rodrigo has only just released this album, but something tells me it won't be leaving the spotlight for a while.
Olivia Rodrigo: GUTS – Out 8th September 2023 (Geffen)