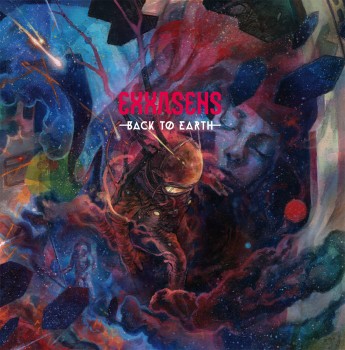 "Things can get out of a black hole, both to the outside, and possibly, to another universe. So, if you feel you are in a black hole, don't give up. There's a way out" (*). This is Stephen Hawking's encouraging reflection on the everlasting human concern about what's on the other side(s).
Spanish progressive post-rock band Exxasens' latest album, Back to Earth, could be the perfect soundtrack for the renowned scientist's essay. A way to illustrate the cosmic romanticism that says there's always a way out.
Certainly, that's what this talented band bringa back to Earth according to the press release, "After an eight-year space travel and four DIY albums, including the acclaimed Eleven Miles (2011) and Satellites (2013)", according to the press release. "In this period, Exxasens has evolved from a one-man solo project (led by Jordi Ruiz) to a fully-fledged band", it also says.
This four-piece based in Barcelona, and by the likes of Mogwai and Explosions in the Sky, is labelled as cosmic rock: spatial exploration is their main inspiration. They are Oriol Planells (drums), Cesc Céspedes (bass), Sergio Ledesma (synths/keys) and Jordi Ruiz (guitars/programming).
So, it appears there's some kind of hope out there, BUT after struggling with dark matter, if you let me add. Exxasens' fifth album seems to me like a thoughtful tale about the eternal fight between good and evil, between the mundane and the other-worldly. Sometimes wins the first, sometimes you can discern the human defeat by its fateful Destiny, as a damned star inevitably splits. Along this battle there's also a deep sense of moaning melancholy, a continuous gloomy aura, a burning halo surrounding a distant universe. And some sort of a cry for resistance, perhaps.
Beyond these ill-defined metaphors, musically, to some extent naïve melodies lead on to heavier sounds. Are we really getting back to Earth or are we losing gravity yet? This epic poem certainly takes you far away from stars, through every black hole, towards somewhere else but Earth.
After a powerful and purely melodic opening with 'Supernova' and 'My Hands Are Planets', the back home journey turns darker with 'Hugeness', then the smooth shooting star called 'Oniria's Interlude' gives way to the ethereal rhapsody 'Your Dreams Are My Dreams'. The beacon of hope (and also a wink to Pink Floyd) leans on 'Bright Side Of The Moon'. This 'bright side' is also deep and disturbing, and finally explodes with sharp guitar chords. The inspiring lyrics of 'Saturn' are (surprisingly) very much appreciated. Why 'surprisingly'? Cause when you get used to this instrumental cosmic rock, you totally forget about the missing voice, but in this case the singing harmoniously suits the music. The end of this mind-blowing trip comes with the song that gives name to the album, and it is powerfully metal.
Is Exxasens' music preferably worth listening to at night? Sweet cosmic dreams? Yeah, think so.
(*) From 'Into a Black Hole', 2008, an essay by Stephen Hawking (you can read it here: http://www.hawking.org.uk/into-a-black-hole.html).
Release Date 07/09/2015 (Aloud Music)
Exxasens Official | Facebook | Twitter | Soundcloud