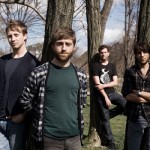 Sub Pop are delighted to announce that Australian quartet Husky are returning to the UK for a series of dates this month. This is a great opportunity to catch the band live following the release of their debut album 'Forever So'. You can watch a stunning rendition of the album's opening track "Tidal Wave" in the new live video below.
Husky's live show is crafted to take audiences on a journey through their captivating songs, earning them critical praise for their performances, described as "lush…warm and evocative" by Sydney Morning Herald and Shout4Music said; "Their live craft is so assured that it lands in the heady realm of being downright enchanting". On seeing the band at The Great Escape, Uncut Magazine commented that "The crowd are soon stirred to life by an excellent selection of songs from the Australian band's new album, Forever So, stand-out among them "Fake Moustache" and "History's Door"."
Husky's album, 'Forever So', is a fully-realized, long-playing album that holds up start-to-finish, from catchy opener "Tidal Wave," with its hum-along harmonies and surprise psychedelic midsection, to the understated, intertwined brass parts that conclude "Farewell (in 3 Parts)". In the syncopated rhythms of "Hundred Dollar Suit" or the reverberating piano strings and laid back bass that underpin "The Woods," you can sense fingers moving over instruments and lungs giving breath to voices, the unfolding of ephemeral ideas transforming in to fresh, carefully crafted songs before your very ears.
'Tidal Wave' Download (just right click and save as)
September Tour Dates:
8th – Dublin, The Workmans Club
9th – Manchester, The Castle Hotel
10th – London, The Lexington
11th – Brighton, The Hope
12th – Birmingham, Hare & Hounds
13th – Glasgow, Nice N Sleazy
@huskysongs