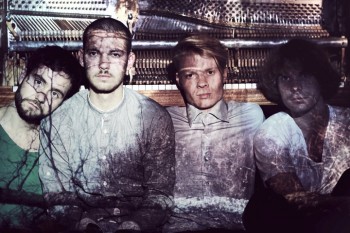 – THE CASTLE HOTEL, MANCHESTER –
Support band 'New Hips' are a tech-rock four-piece based around young music graduates with all sorts of equipment – two guitars, bass, two keyboards, trumpet, one-and-a-half drumkits, and effects boards all over the place. It's quite a surprise that they manage to use it all. It's quite challenging, very technical music, written in Sibelius as much as in the rehearsal room. There's no arguing with the musicianship but the mood isn't always there, it's a little bit too schizophrenic and intricate for me to follow with much enthusiasm, but they're good at what they do.
Danish band Treefight for Sunlight bring a short but sweet set – their first album plus a cover. Speaking to the band after the gig, there is more material in the pipeline and they hope to release their second album mid-2012, but although they have already written some songs, nothing is set in stone.
I reviewed their album earlier this year, and it's daytime, summer music in the mould of the Beach Boys so I wasn't sure how I would react to such an upbeat collection of tunes played in the downbeat back room of an old-school pub on a cold, rainy Manchester night, but it's infectious. At one point, I'm in serious danger of smiling. I think Treefight For Sunlight's upcoming appearance at this weekend's (awesome-looking) Bestival will go down pretty well, especially if the weather holds up.
I have to say, I really am astonished at how high these guys can sing – I'd be impressed if they were girls, but the purity of tone and the quality of execution of the four-part vocal harmonies, with barely an off-colour note in the whole show, really hits me tonight. The only other band I have seen who pull off such oral acrobatics are the Fleet Foxes – whom Treefight For Sunlight list as one of their main influences.
The aforementioned cover was introduced as being by "the righteous queen of England". When they quickly add a "please don't be offended", I was, for a moment, worried that we'd be treated to an ill-advised Amy Winehouse rendition but I'm pleasantly surprised when they break in to a faithful reproduction of Kate Bush's 'Wuthering Heights', which they absolutely nail. Even though my favourite version will always be China Drum's, this was a welcome and impressive cherry on the top of a well-performed set.