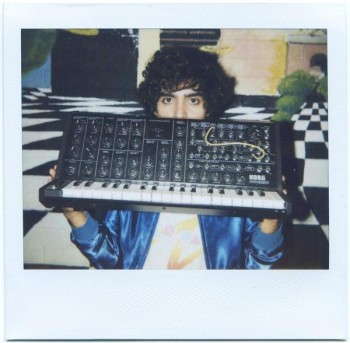 – THE DEAF INSTITUTE, MANCHESTER –
In case you don't know Neon Indian are a hotly tipped band from Texas, producing 'chill wave'.
Chill Wave is, from my experience of it, what we used to call 'ambient electronic music' and actually sounds a little like the score to films like 'Ladyhawke' or 'Labyrinth 2' from the 80s. So there. That's cleared that up then.
Currently a 4 piece, containing drum kit, guitar and two keyboard players, wearing cardigans, bad shirts and floppy hair. The crowd to be honest is fairly sparse, there are however, FOUR photographers running around the front of the stage vying for a decent photo of these bright young things.
Having never heard their songs before, I wasn't entirely sure what to expect, but found a romantic, wistful and enchanting sound-scape of digital sunshine, tinged with the lost loves of teenage experimentation.
The only track I catch the name of is 'Ephemeral Artery', the last song, which is much faster paced in terms of the set.
More of a rock song really, the guitarist has his chance to make his guitar sound like a guitar, (who I'm sure I've seen on 'Rude Tube') and the drums sound startlingly effective against the fuzzy distortion of the samples being produced by the keys.
File next to M83 and Ariel Pink if you need a place to put them, but for me, they are a truly exciting and mesmerizing band, and I'm afraid I'm at a loss to think of more words to describe them!