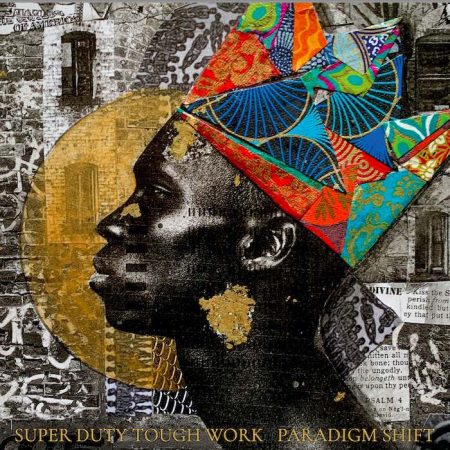 The debut album from Canadian art-rap collective, Super Duty Tough Work, sets out to celebrate resistance-based debauchery and internationalism, stating its aim of opposing the homicidal ruling class the planet is forced to endure while not forgetting to have fun. Yes, 'Paradigm Shift' is an ambitious record. The content has moments that are as revolutionary as early Public Enemy, while refraining from their delightfully incendiary noise, instead opting for a primarily laidback musical sophistication and creativity. Ten tracks weigh in at a packed 34 minutes, its concision in contrast to the sprawling releases of, say, Kendrick Lamar. It is an approach that suits a musically and lyrically dense style with the use of a full live band adding to the organic effect.
Opening track, 'Mission Statement' has frontman Brendan Grey noting of his rivals, "Most ain't done the reading and it shows". Certainly, the album's frame of reference is substantially wider than most records. Grey's impressive family lineage feeds into the themes. He was raised by a climate policy specialist father and an anti-racism speech writer mother, a grandmother who broke colour line barriers in the prairies as the first black pharmacist and a grandfather who was an educator and cousin of both pianist Winnifred Atwell (whose work will be familiar to watchers of TV snooker programme, Pot Black) and civil rights leader and Black Panther Kwame Ture.
Throughout, there is an excellent choice of samples from the first voice to appear on 'Mission Statement', the late MF Doom counselling to "follow your heart" and recognising everyone as a unique individual. Over a pitch-bending synth progression, Grey describes the difficulties of being a gig-economy worker, especially in the arts, during the cost-of-living crisis, while dropping in Public Enemy ("my Uzi weighs a ton") and Angela Davis references.
To the lithe accompaniment of drone synths, subtly infiltrative bass lines and drum breaks, 'First Strike' cites a range of figures from Naomi Klein's 'No Logo' (a welcome corrective to elements of rap's obsession with designer labels) to Mode 2 and Claude Monet to Nas.
'Guillotine Dreams' uses a repurposed Rage Against The Machine lyric to rail against the monarchy and the British Empire's colonial outposts with a sample salvaged from a nearly century old 78 of Brendan Grey's grandmother (Frances Atwell) singing accompanied by his great-grandmother (Beatrice Brown) on the piano. To a feast of skipping loops and scratching, Grey makes the scathing, though now dated, observation, "So while they're singing God Save the Queen/ The only place I'm seeing Liz's face is in the guillotine".
'Grey's Lament' details Winnipeg's anti-colonial history and takes its title from a play written by his late uncle. It again features crackly, eery sound of his grandmother singing. While the track contains some braggadocio, it is delivered with rare charm and imagination (I'm just so handsome / My liberation anthems something like Fab Five Freddy meets Fredrick Hampton"), dissing other rappers as doing cosplay and condemning the self-sustaining structures of oppression ("But if I say 'fuck the police' I get pulled off stage? / But of course that's the logic of the Great White North / They throw a tantrum over my language while ignoring the source.")
In a change of pace and mood, 'First sight' is fuelled by a Drum and Bass inspired break together with Chicago House synths and Marisolle Negash's vocals narrating a night out on the scene before Grey's leaps in with some rhymes. 'Quiet Strength' exemplifies the excellent choice of samples starting with the voice of essayist, poet and activist Audre Lorde talking about the denigration of the notion of survival and how it includes joy, mobility and effectiveness, leaving something beyond themselves.
To an enticing blend of synths and soulful backing vocals, 'Molotov Cocktails at Brunch (A Love Song)', sees Grey detailing free-market fantasies and warning "That's word to Elon, Billy and Bezos / Be prepared / We moving to quarter you in the town square / It's only fair" before ending with a sample discussing how to make explosives. 'Mood Swings' explores the media's coverage of the abuse and murder of black people while also discussing depression. In its jazzy piano grooves and lyrical flow, it is reminiscent of the mighty MC 900Ft Jesus. The album ends with 'Far Away (Champagne Steam Rooms)', a mix of loops and soulful vocals, serving as a chilled runout groove.
'Paradigm Shift' is an extraordinarily erudite and coherent album, that channels conflicting subjects and urges, to call for an internationalism that moves beyond identity politics to find commonalities for all victims of capitalism, while blending this with dexterous beats, chilled sounds and both informed and playful rhymes.
Super Duty Tough Work: Paradigm Shift – Out 8th September 2023 (Next Door Records)
Duty Tough Work – Guillotine Dreams (Official Video) – YouTube