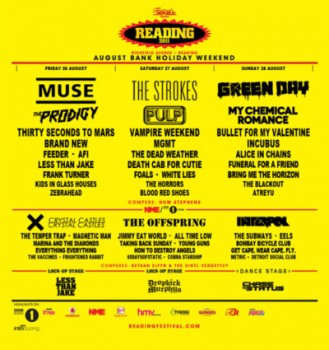 My Chemical Romance:
They are the first headliners of the weekend, and boy do they kick things off in style. Now many people often slate My Chemical Romance, be it because they are secretly trying to mask their forbidden love for them, or that they really just hate them, but whether you like it or not these guys really know how to put on a show. I am a new comer to the 'MCR' stage show but it is all singing and all dancing. And not only that, but they can actually perform, they really do sound like they do on CD which is comforting, seeing as there is a large increase in the use of production now-a-days. One thing that I was completely blind to, until this beautiful Friday night, is the 'MCArmy'. This is the legions of fans that follow them around singing their praises, and there are rather a lot of them. But who can blame them, the band is great live, Gerard really knows how to work a crowd and put on a performance, and he actually sent out a few good messages too. Saying that, as a caution, please be prepared to be annoyed at the 'American-ness' (I know this is not a word), of the band, and to be constantly referred to as 'England'. That aside, if you get the chance go and check these guys out.
Muse:
Muse are the weekend headliners of Reading this year, they play Sunday night as the sun is setting to thousands of fans. Muse is one of those bands everyone always bangs on about, "Oh they are amazing, you have to see them live!" and so on. And because of this I decide to give them a chance to impress. I would not have classed myself as a fan as I stand waiting for their 2 hour set to begin, by the end of the two hours, I am a Muse fan. If you have never seen them live, open a new Internet tab now and by tickets, if you have a 'bands I want to see' list, right them on there, just do something to ensure at some point you see them. They play all of the crowd pleasers as well as the 'Origin of Symmetry' album, and then team it with insane videos of strange cartoon animals, the most ridiculous light shows ever, fire AND fireworks! The crowd stay with them from the beginning right through and you can almost feel just how much the band were in to doing what they do best. Matt Bellamy has an incredible voice and all three of them are amazing musicians.  It really is a gig to remember, and as the sun sets over a very muddy Reading, the sounds of Muse pierce the night as the perfect close to the weekend.
Frank Turner:
Frank plays the main stage this year and he's definitely worthy of it. His set is fun and entertaining. You can either, sit back and enjoy the sun that briefly shows its face, or get up and have a boogie. He has good lyrics, teamed with great melodies, and a few good stories too. It wouldn't surprise me if he has picked up a few new followers throughout the performance and it would definitely be worth going to see him on his own tour.
Panic! At The Disco:
When you think Panic! At The Disco, you think Brendon Urie (the diva of a frontman who has been the reason for several line up changes), make-up, quirky music videos and teenagers. Unfortunately the only thing that is delivered during this performance is the excessive amounts of teenagers. Most people know one or two of their songs and I am a fan of their first album. I'm also excited to see the type of performance Brendon gives. The most exciting thing he does is take his shirt off, which produces a deafening roar from every girl in attendance. Technically, they are good, they play all the classics, and a few new songs, and Brendon has a good voice. But for me that is not enough, maybe I expect too much, or maybe they just give a half measure performance, but there are no costumes or artistic flares, even the lights are boring. A disappointment for anyone over the age of 18 I would imagine.