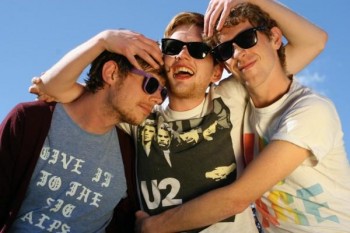 Surf pop harmonies, guitar jangles and old school rock 'n' roll rhythms all come together on Yeah Nothing; the debut album from Irish garage pop trio Squarehead. A meeting point somewhere between the melodies of The Beach Boys and punk of Portland's The Wipers, the record is scheduled for release through the Richter Collective on September 19th. This shall be preceded by lead single 'Fake Blood', on September 5th.
What initially started as the solo acoustic project of singer and guitarist Roy Duffy, has quickly grown into a full three-piece band. The band have subsequently established themselves live, performing nationwide dates including support slots with No Age, Calvin Johnson, Deer Tick, Male Bonding and Titus Andronicus.
The album itself, recorded with Shane Cullen at K9 studios in Deansgrange, Dublin, is the result of two four day sessions in September and December of 2010. It is a modern take on a 12 song pop record, crammed with lyrics about girls and good time sentiments.