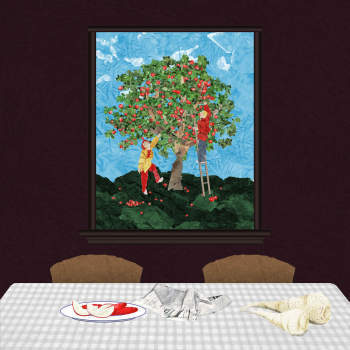 It's very rare that I start listening to something and immediately fall in love with it but that is exactly what happens when I get hold of Parsnip's debut album 'When the Tree Bears Fruit' and hear the delightful opening track 'Are You Taking Me For a Ride'.
In the nicest possible way, it's utterly ridiculous from the off. It's gloriously and unashamedly silly at the same time as being immediately likeable and very poppy, punctuated by the occasional dab of melancholy, as in 'Soft Spot'.
On the face of it, it's 1960's rock 'n roll retro nostalgia turned up to the max, with a dose of garage rock ethic thrown in – but just as the Residents and Frank Zappa worked within the medium to satirise itself while simultaneously creating music that was punchy, melodic, engaging and challenging, so do Parsnip.
Parsnip have the syncopation, quirky riffs and unconventional vocal lines that mark out Zappa's oeuvre, a song called 'Sprouts' as well as songs mostly driven by melody lines rather than chord progressions. The slightly unsettling and discordant edge to their melody lines, switches of pace and passages of technical (but not unnecessarily virtuoso) keyboard, guitar and bass playing in unison or at intervals are also reminiscent of Zappa. They keep the songs almost exclusively within the three minute pop limit and bring vocal harmonies which give the whole thing a feel of a Beach Boys album left to go bad in the Australian sun.
All these comparisons might seem to suggest that I think Parsnip are derivative or unoriginal – which really isn't the case. For me, it's an obvious similarity in sound but it's high praise and draws parallels with one of the most talented and genuinely groundbreaking musical pioneers around.
Parsnip have their own sound, their own message and genuine originality and weave elements of pop, bubblegum punk and rock 'n roll to create something really compelling.
They also have the added facet of vocals which could have been lifted from a jingle recorded for a Japanese mascot-led infomercial. My only gripe about the whole album is that I would prefer the lyrics to be a bit easier to pick out, as they, too, aren't just standard fayre.
Altogether 'When the Tree Bears Fruit' is off-kilter, challenging and original while also being comfortable, accessible, intricate, wonderfully musical and happy.
And here's a personal apology from me to Parsnip: if your music isn't supposed to be funny, I am very sorry for finding you unrelentingly hilarious. But, thanks anyway!
Parsnip: When The Tree Bears Fruit – Out 30th August 2019 (Trouble In Mind Records)