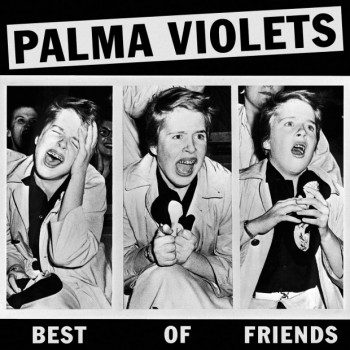 Up until now Rough Trade's Palma Violets have had minimum online presence and no songs recorded, instead preferring for people to come and experience their raucous live shows at their Lambeth art studio / squat Studio 180, and then later on a UK co-headline tour with Savages.
As of today, the London four-piece's debut single 'Best Of Friends' is available to buy from iTunes. The track, which premiered last night on Radio 1 as Zane Lowe's 'Next Hype' record, is sung by the band's bass player Chilli Jesson and is an exhilarating blast of primal rock'n'roll. 'Best Of Friends' will be fully released on 22nd October as a CD single (because no one does that anymore!), download and on limited edition coloured vinyl. Watch the video for 'Best Of Friends', comprised of footage from their recent UK tour and gigs at Studio 180.
It's b-side 'Last Of The Summer Wine' will be revealed shortly. Recorded with Pulp's Steve Mackey, it is sung by the band's guitarist and co-frontman Sam Fryer and reveals a different, organ-soaked, evocative side to the band.
Palma Violets will be touring the UK this October. Dates can be found here