When asked to think of Derbyshire, you may conjure up images of coal mines, the luxurious home of Jane Austen's swoon-inducing Mr. Darcy and now angsty, two-man blues/rock duos who make The Black Keys sound dangerously close to irrelevant, plodding dad-rock.
Indeed, Derbyshire's latest export, Drenge – formed by the aptly named brothers Eion and Rory Loveless – capture within their eponymous debut album an energy so aggressively physical that upon even the first listen, anybody would be left desperate to see them live. And rightly so. Through the basic combination of distorted guitars, pounding drums the brothers present to the world a revitalised, exciting version of what has become an all-too-commonplace formula.
Not dissimilar to other records released by bands of a similar kind – the obvious (and somewhat lazy) two-piece comparison being The White Stripes – Drenge contains an abundance of intense, memorable riffs, backed all the time by pounding, violent drums. What really allows Drenge to make a lasting impression with their debut album is the gritty, violent and pessimistic nature of their lyrics, which embody the pent-up boredom that comes with living in a small Derbyshire village (namely Castleton) perfectly. At first glance, refrains such, "Please don't stop till I'm reduced to nothing", found in album highlight 'Nothing', may seem a little sinister against the backdrop of rural living. However, such lyrics highlight Drenge's ability to draw out the murkier, more sordid effect of small town boredom, seldom displayed in music since Tompaulin's misleadingly uplifting tales of northern town debauchery.
Drenge play upon this fascination with dissatisfaction and desire to escape. Beginning track 'Bye Bye Bao Bao' with the lyric "I wanna be alone" epitomises Drenge's willingness to separate themselves from the insipid crowd that is the majority of current British guitar music; an attitude exemplified by their blunt, attention-shirking response to the over-quoted story about their most famous fan: ex-Labour MP Tom Watson. 'Bye Bye Bao Bao' leads into the brooding eight minute 'Let's Pretend', a track which displays the band's abilities to channel their angst into a more drawn out format just as effectively as they do when crafting short, powerful, riff-based attacks on their environment.
Despite the impressive nature of the slower tracks on the record, it is in the sheer aggression and power of the faster numbers that Drenge really prove they are a band worth a considerable amount of praise. Tracks such as 'Gun Crazy' and single 'Bloodsports' harness the brutality that their titles may suggest, tumbling forward with unbridled power and menace. Single, 'Backwaters', shows singer Eoin at the end of his tether, proclaiming, "I wanna give up, but I don't know why". Coupled with the depiction of the consumption of special brew at a bus stop – an experience depressingly branded into the memory of many of us adolescents who grew up in small towns – the lyrics of 'Backwaters' depict with harrowing reality the negative effects of growing up in the middle of nowhere can have on a person. The very title of the track displays the members of Drenge's lack of affection for the place where they grew up.
The album is not entirely negative though, despite Eoin's predictions of infidelity on the part of his lovers, and the occurrence of violence seemingly at every point in his life. Drenge is an album injected with humour, which lies beneath the more menacing tone of the album in general. Although far from producing anything like a novelty song, Drenge's tongue in cheek attitude prevails at times, most obviously in the title of album opener 'People In Love Make Me Feel Yuck'. 'I Don't Want To Make Love To You' inverts Willie Dixon's original, the product a far more relatable tale of the unromantic, lack of affection that plagues the existence of the common man just as often as true romance enhances it.
Album closer 'Fuckabout' displays Drenge at their most reflective, this time deriding their own behaviour rather than that of others. Somewhat more mellow that the rest of the record, 'Fuckabout' is an apt closer to the album, acting as the period of cool-down that follows soon after a half-hour long tirade at every aspect of life Eoin and Rory can think of.
All in all, Drenge is a triumph of an album. It harnesses the frustration and dissatisfaction felt by so many existing within the claustrophobic confines of small-town life and generic romantic expectations, and elevates them to a level where they are no longer largely irrelevant, but rather all-consuming. When a band can do this, whilst at the same time crafting songs that are as impressive musically as they are in terms of message, it's clear they're onto a winner.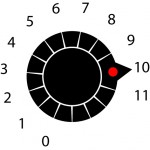 Release Date 19/08/2013 (Infectious Music UK)