The supergroup: a lazy term for a generally dirty concept in rock music. It brings to mind egotistical, indulgent, short-term projects comprising disparate musicians operating on different wavelengths. But after 15 years and six full length albums, The New Pornographers have found a way to circumvent these problems, chiefly by only convening every few years. Inbetween, A.C. Newman's own projects have found success, Neko Case has cultivated her own solo empire, and Dan Bejar's project Destroyer has garnered critical acclaim, amongst others.
The result of the first New Pornographers project in four years (their longest time apart) is the sound of a more unified and focused band than ever, and a contender for the pop album of the year. De facto bandleader Newman resumes primary songwriting duties, claiming 'Brill Bruisers' to be a celebration record stemming from "being in a place where nothing in my life is dragging me down." Long-time fans may find relief in the quote, after the last two projects – 2007's 'Challengers' and 2010's 'Together' – were altogether more distant, reflective affairs. The uproarious power-pop New Pornographers are back in 2014 with a new cohesion and optimism, and perhaps their finest hour.
Many of the quirks and ticks that identify their best work are still present – the stabs of fragmented background vocals, chunky indie chords, careering percussion, and the bursts of bright dual-vocal semi-choruses. But this time the songs are more straightforward, less likely to take a sudden left turn in the final third. Take opening track and lead single 'Brill Bruisers', a statement of intent that opens brimming with energy and never dips for its duration. Although Newman denies invoking the Brill Building songwriting legacy with the title (he actually says it brought to mind a "second rate 70s glam record akin to 'Chariot Choogle'"), it is nevertheless true that this song, like most here, live or die on their core melodies.
Whether it was the intention all along, or a decision taken after realising the strength of this particular set of songs, the album's directness works. Tracks like 'Backstairs' and 'Marching Orders' are immediate and hummable. Infectiousness levels peak on penultimate track 'Hi-Rise', a sugar rush of poppy hooks that boasts a melismatic lyric-less chorus line that is unshakable. The preponderance of 80s synthy, borderline processed, keyboards is perhaps the biggest surprise, calling to mind Electric Light Orchestra or 10cc, but even this can't disrupt the optimism.
There is a near total absence of balladry and melancholy, with 'Wide Eyes' and the charming 'Champions of Red Wine' going closest, but even here there is no defeat or despair – at most a compromised satisfaction. And in the end, the boisterous, rollicking album closer 'You Tell Me Where' provides an entirely appropriate ending to a breathless album of 21st century pop music.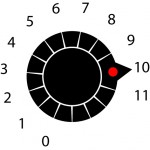 Release Date 25/08/2014 (Matador)
The New Pornographers Official | Facebook | Twitter | Soundcloud