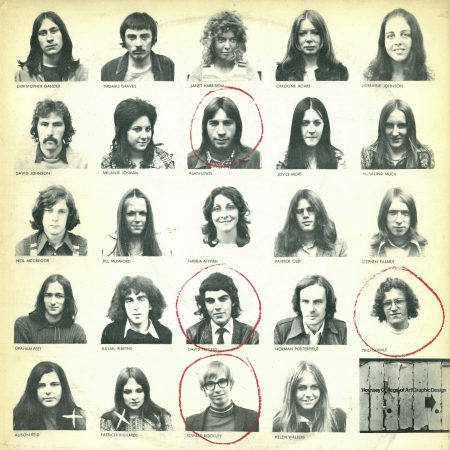 When is a reissue not a reissue? Perhaps this can become the music fan's equivalent of the "if a tree falls in a forest and no-one is around to hear it, does it make a sound" philosophical conundrum. The original release in 1972 of 'Back in the HCA' by Bowes Road Band was limited to 50 copies (ten for each band member and the same number for Hornsea College of Art) so its impact upon the wider world was miniscule. However, via a fortuitous discovery of one of the original records at a Berlin flea market by Jannis Sturtz (DJ and co-founder of Habibi Funk records), the band members being tracked down via Facebook and the master tapes being secured, it is now available to a larger audience through Una Loop and Jakarta Records (the sister label to Habibi Funk).
'Back in the HCA' manages to be simultaneously of its time with some of its musical references (psychedelia, acid folk), vaguely futuristic in its incorporation of synthesisers and at odds with the contemporary zeitgeist that put a premium on virtuosity and often tedious, lengthy solos. The members of Bowes Road Band were design students rather than accomplished, polished musicians and what bubbles from the album is that inventive spark. The everyone in the room playing together production is delightfully ramshackle, in many senses a forerunner of lo-fi.
The previous version of the album consisted of nine tracks, six of the most cohesive have been mined for the current release. It begins with 'Grass is Grass' which opens with bird song and whistling. Of the tracks, it bears the greatest influence of Dave Pescod's (rhythm guitar) interest in classic songwriting. It is a genuinely naive ode to parks and garden rather than illicit substances with echoes of Donovan and acid folk while Ted Rockley's lovely saxophone weaves through the tune.
'Tomorrow's Truth' utilises bits of backward masking, the sax transforming from mournful to wild wandering. It features the VCS3, a British made and not particularly well manufactured synthesiser. The college had purchased one without a keyboard so it could not be played as an instrument, only as a source of swooshing noises so drummer, Alan Lewis, brought in his Bontempi organ and took its audio output to manipulate the sounds.
The album's shortest track, 'Goodbye to Rosie' is an acoustic folk-pop chug with sax flourishes. A celebration of their student days which mentions people on their course, like 'Grass is Grass', it is blessed with a gorgeous, delicate melody. 'Inside My Head' has a halting piano and slightly whimsical tune while synth is used to highlight their experimental impulses contained within standard song structures.
'Doctor, Doctor' (clearly unrelated to the later Thompson Twins hit of the same title) flows from a similar melodic pool to Syd Barrett era Pink Floyd and most closely reflects lead bass guitarist, Phil Rawle's interest in blues rock. The song is a collage, partly based on a student who overdosed. As the album's longest track (clocking in past the seven-minute mark) it delves into aspects of freeform jam, the synth sounds like it is taking off for space and the sax mimics an ambulance siren before heading off in a polka rhythm. The concluding track, 'Two Fingers' contains elements of 60s blues pop, adding synth whirrs, horn flares and references to climbing trees, Dutch elm disease and helping old ladies across the road.
While 'Back in the HCA' can be described as a curio, that seems reductive as it is a record of considerable charm which due to great excavation work will be a new discovery for most listeners.
Bowes Road Band: Back in the HCA – Out 1st September 2023 (Una Loop/Jakarta Records)