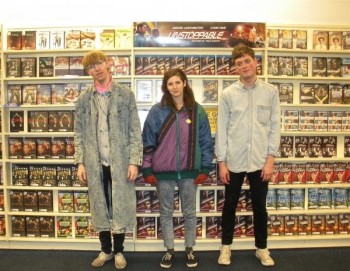 In one year as a group, Total Slacker have released two singles on independent record labels both in the U.S. and Europe, and have played over 100 shows at some of the largest venues in New York, garnishing the attention of notable press and international radio play, including their single 'Crystal Necklace' being voted #36 in the Pitchfork Top 50 Songs readers poll of 2010.
'Crystal Necklace' was also featured on a compilation cassette tape from Fierce Panda with the likes of Dum Dum Girls, Twin Sister, Beach Fossils, Real Estate and Weekends.
The album entitled 'Thrashin' features 11 songs all recorded in Carlos Hernandez of the band Ava Luna, in Coney Island, Brooklyn. Two tracks from the album include a guest appearance from Beach Fossils guitarist: Cole Smith [formerly of Darwin Deez].
Returning from their first American tour this summer the band are now set to release their album and are looking to cross the ocean to play a number of UK shows including an album release party with Sexbeat on 29th September.
'Secret VHS Collection" will be released as a single on 5th September, with an accompanying video by Mathew Caron of VICE and Tucker Rountree