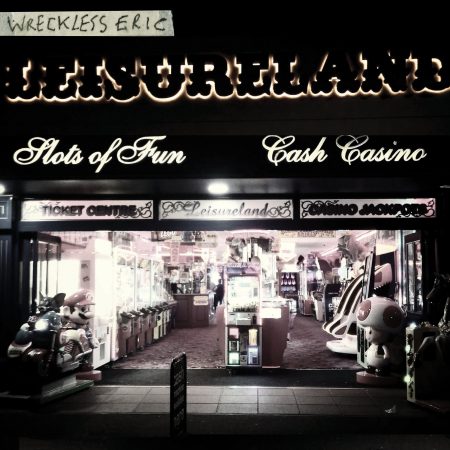 August ends on a bumper week with plenty of excellent releases. Here is the Silent Radio guide.
Wreckless Eric                   Leisureland       
It marks a return to his more ramshackle world of recording – guitars and temperamentally unpredictable analogue keyboards, beatboxes and loops in conjunction with a real drummer. The album considers the idea of seaside towns but also contains more instrumentals than any of his previous records. It is an album with plenty to recommend it.
Our Broken Garden        Blind    
Anna Bronsted's nuanced brand of Scandinavian soul with songs prompted by an existential crisis caused by finding out she was unable to have children. The music is inspired equally by 70s singer-songwriters like Joni Mitchell and Neil Young, and more contemporary artists like FKA Twigs. The album is elevated by guest vocals from John Grant.
Sun's Signature                 Sun's Signature Extended           
Vocalist Elizabeth Fraser (Cocteau Twins) and Damon Reece (Massive Attack) percussion with their EP of tinkly Baroque-pop, minimalist a cappella vocal layers, shimmering psychedelic march augmented by remixes from Gwenno, John Grant, Will Gregory and LUMP.
Clementine Valentine   The Coin That Broke The Fountain Floor
Duo who have toured extensively with Aldous Harding, Weyes Blood and Ariel Pink. Sisters Clementine and Valentine Nixon draw inspiration from their nomadic family heritage, creating music that evokes contrasting moods: ancient and modern, paradise and isolation, beauty and brokenness, ritual and the present moment.
Chela    Diagonal Drift   
A project from Ajay Saggar (Bhajan Bhoy) and Kohhei Matsuda (Bo Ningen) which weaves darkly hypnotic melodies with drone-folk structures and crisp electronica on a cinematic bent.
Spellling              SPELLLING & the Mystery School             
Collection of reimagined and richly orchestrated versions of songs with have appeared on her previous albums of eccentric pop.
Willie J Healey                  Bunny  
A fusion of Philly soul, rock and R&B, taking its sonic cues from boundary breaking Fresh-era Sly and The Family Stone whilst blending Willie's love of Beck, Outkast and the more unusual influence of David Bowie's relatively undiscovered The Gouster – an album of the Thin White Duke at his funkiest.
Cindy Wilson     Realms
Second solo album from founding member of The B-52s takes the listener through a carefully crafted selection of colourful, dramatic outpourings and dynamic, finessed upheavals.
Becca Mancari                   Left-Hand           
An album based on the parallel between cultures where left-handed people are forced to use their right hand and queer children being told it is not normal to love who they love. On 'Left Hand', Mancari is joined by guests including Brittany Howard, Julien Baker and Paramore's Zac Farro.
Bebel Gilberto  Joao      
Daughter of Joao Gilberto whose album is a testament to his lasting artistry but also acts as an act of devotion from a daughter to her father.
Bruce Haack       Captain Entropy              
Kramer remasters and puts out on Shimmy Disc a 1974 album from a pioneering synth artist.
Plume Girl          In the End We Begin      
An album of songs which sit somewhere between ambient Hindustani music and emotionally encumbered pop.
Para Lia                In Clash With The Zeitgeist         
Alt rock from Berlin, inspired by The Cult, New Model Army, Placebo.
myst milano       Beyond the Uncanny Valley        
Toronto rapper / producer / DJ with a ride through hedonistic experimental hip-hop and house music
Buck Meek         Haunted Mountain        
Album from Big Thief guitar with a set of songs about love.
Sea Power          Man of Aran      
Available on vinyl for the first time, this 2009 score to a 1934 documentary charted the activities of fishermen based on a remote outcrop in mouth of Galway Bay in western Ireland and captured a disappearing way of life.
Ratboys                The Window     
A sonically diverse album, shifting wildly from track to track and flexing everything from fuzzy power pop choruses to warm country twang to mournful folk.
Drab Majesty    An Object in Motion      
At 32 minutes, straddles the line between EP and mini-album. It sees Deb Demure leaning into the neo-psychedelic resonance of a uniquely bowl-shaped 12-string Ovation acoustic/electric guitar. Opening track, Vanity, features guest vocals from Slowdive's Rachel Goswell.
The Fall                Dragnet               
Vinyl reissue of the band's second album from 1979.
Catatonia            Make Hay Not War: The Blanco Y Negro Years   
5CD box set of Cerys Matthews' band consisting of their 4 albums plus bonus material.
Kevin Ayres        Falling Up           
Reissue of 1988 album from ex-Soft Machine man.
Ida Mae               My Whispers are Wildfire           
British indie rock duo that has toured with Willie Nelson and Lucinda Williams.
Hot Milk              A Call To The Void           
Tracks on the debut album walk a tightrope between the humorous and the serious, brimming with what might be called positive nihilism.
Prison                   Upstate
A giant-size quintet – three guitars and four vocals, pulling at one riff until its all things for everyone. Sledgehammering at the controls of a psychedelic space-coaster and careening into other spaces entirely.
Knife Bride          Don't Dream Too Much EP          
Nu-Gothika' metal band with an EP consisting of a trilogy of their most gruesome dreams. A one-night cycle of disturbing visions.
Mipso   Book of Fools   
Indie Americana folk quartet's 6th album has ten cohesive tracks of driving rhythms and earnest, thoughtful lyricism.
Old Crow Medicine Show            Jubilee
Two-time Grammy award winning band that imbues vitality into traditional music are joined by guests including Mavis Staples on their latest album.
Lucky Thief         DIY        
Big riffs and production dominate this album in which Ed Jefferson explores his own mental health struggles, relationships, substance abuse, and the impact of his religious upbringing throughout the album.
Islands                  And That's Why Dolphins Lost Their Legs             
Hook-laden but more idiosyncratic than their recent releases, the album focuses on regression while trying to signal the death of isolationism.
Neptune's Core                Called Upon      
Chicago indie band with a heartfelt style that blends their rock, jazz and classical roots.
Velvet Insane     High Heeled Monster   
Swedish band with high-energy, glam-tinged stadium sized rock.
Supergloom       Immaterial EP   
Shane from Dreamphases with a new group whose EP toes the line between Tame Impala and My Bloody Valentine.