The first time I heard Minus The Bear was on a beach and it seemed their thoughtfully composed yet totally chilled out style of music was the perfect backing to an afternoon in the sun – whether that be on the white sands of Hawaii or, in my case, the somewhat darker sands of a dirty British Beach.
Bearing this in mind you'd think there'd be a limit as to how many songs a band can produce that fits into appropriate beach music category, but ten years down the line and several hugely successful albums later, the Seattle-based group are back and ready with another beach- worthy contender.
'Steel and Blood' is instantly recognizable as a Minus The Bear track staying true to their individual, electro, pop, rock, experimental and instrumental way of making music. This is the first single to be released from their upcoming sixth album, Infinity Overhead, and loyal fans are greatly anticipating the new record as the pre-sale vinyl sold out in just two hours.
With hypnotic riffs, a pop-influenced chorus and lyrics that explore intimate connections, the track could easily blend into the previous album, Omni, without making a scene. As a result the band's if it ain't broke sentiment has caused a few fly-aways in the fan department, but such musical qualities are what make the five-piece so unique and so loved.
After a few listens it becomes apparent that 'Steel and Blood' experiments with more mature rockier guitars and an anthemic bridge, suggesting a transition from the adolescent musical works of Highly Refined Pirates (yet they've not lost their ability to perfectly time the use of a synthesizer). The track offers subtle promises for the new album and a new direction for the five-piece, so I can't wait to see what Infinity Overhead has to offer.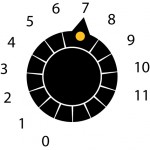 Release Date 20/08/2012 (Big Scary Monsters)