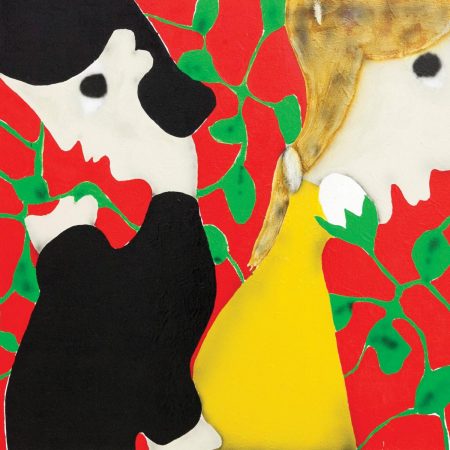 The art of falling apart, a theory put forward by those wise philosophers Soft Cell, serves as a succinct manifesto for creating thrilling songs. There is little more delightful than music which is beguilingly odd and unlikely yet still has immediate fluency. 'The Hit' by Kamikaze Palm Tree is a prime example, beginning with an attention-grabbing piano line, throwing in plentiful melodic twists, delightfully twisted guitar lines and bits of 1960s organ whilst teetering on the brink of descending into chaos to create an exhilarating song.
'Mint Chip', Kamikaze Palm Tree's second album, is a curate's egg of a release, slaloming wildly through all points from the sublime to tracks that have not so much fallen apart as never coalesced. For this release founding duo, Cole Berliner and Dylan Hadley, have expanded their sound, often to good effect, with the addition of Josh Puklavetz on bass plus violin and clarinet from Laena Myers Ionita and Brad Caulkins respectively.
'Flamingo' kicks off the album off, a fine statement of intent, all staccato, top-end guitar and Hadley's percussive dexterity recalling Deerhoof. 'In the Sand' highlights the unconventional, lightly atonal nature of Berliner's vocals, akin to Cate Le Bon. The tracks are often brief sketches rather than full-fledged songs, at times reminiscent of Le Bon's work on her Tim Presley collaboration, Drinks, aptly enough as Presley produces 'Mint Chip'. 'Predicament' is one of the album's highlights, Berliner's guitar being slidy yet percussive. 'Come In Alone', full of electronic squelches, bulging bass and melodic surprises, is representative of how the longer songs which stretch out to three minutes tend to be the most satisfying, immersive ones.
'Mint Chip' has some deceptively gentle songs, namely 'Y so K' where the guitars blend with piano and handclap rhythms to echo underrated 1990s act, Guv'ner's understated moments and closing track 'Stabilo' with its repetition of "if you are in love, don't wander".
There are a couple of pulsing electronic snippets: 'West Side Syncopation' an instrumental with a comparatively straight-forward rhythm and 'Cole's Milk' which is almost comedic in its sound, a lo-fi 'Popcorn'.
On the debit side are tracks which sound like curious but mischievous kids let loose in an instrument factory, especially 'Smoke on the Milk, But My War' and 'Chariot on Top'. 'Bongo's Lament' could be an experimental panpipe band tuning up and maintains their habit of throwing 'bongo' into songtitles: three songs on their debut, 'Good Boy', contained that word. The undoubtedly ironic 'Club Banger' could still be prosecuted under the Trade Descriptions Act, any tune and structure present is heavily submerged under detuned violin, clarinet, piano and guitar.
While no other songs on 'Mint Chip' match 'The Hit' which may be one of the tracks of 2022, there are many moments where the songs erupt to show that this is more than a case, to amend the theorem, of infinite monkeys accidentally creating the work of Beethoven.
Kamikaze Palm Tree: Mint Chip – Out 12th August 2022 (Drag City)