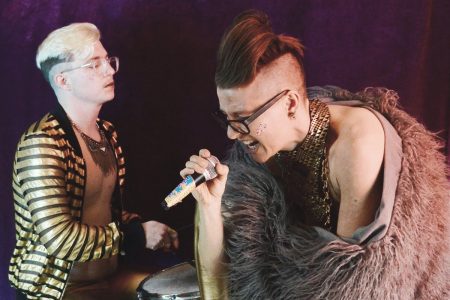 Californian duo Le Fomo have unveiled their second single of 2020. The song is called 'Tiny Anchor' and will be out on the 21st August via AnalogueTrash. Theduo is compromised of Ess Nelson (vocals, lyrics, synths, bass, beats, arrangement) and Kai Hofius (guitar, drums, lyrics, bass).
Speaking about the track, Ess says:
"Tiny Anchor is a song about navigating intimacy. It can be hard to see that someone loves/likes you when your traumatic/fear-based thinking patterns get in the way. An interaction can easily feel like rejection when we're on high alert. It'll send us off spinning. I like to 'throw a tiny anchor' to slow things down, to take some emotional space to understand what's happening without tanking the whole ship, and course correcting if needed.
I can also really get pulled under by my patterns, and that's when I call upon resources to help me find me way out — such as a love enveloping Sea Dragon Goddexx to surround me and lift the veil. Or— in some cases— to affirm that my fear is there for a good reason and I should listen to it. It can be hard to know what's going on. This song is part of my process of figuring it all out."