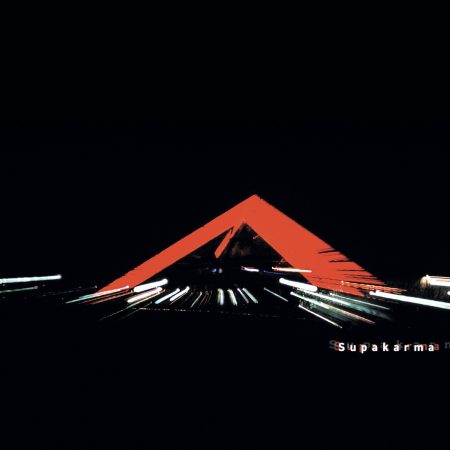 In the latter half of the 1990s, four musicians from Milton Keynes were at the nadir of their career as part of experimental rock outfit Supakarma: recording their debut album at the Great Linford Manor studio (which had previously welcomed artists like PJ Harvey and the Charlatans) following a successful run of shows on the London music circuit.
Despite the seemingly insurmountable position Supakarma found themselves in, their time recording together was, as with the 20th century, soon to meet its end. Inter-band tensions became an increasingly lethal blade that eventually sliced through any prospect of the record being completed, and Supakarma subsequently parted ways.
The forlorn project seemed to be condemned to a lifetime of collecting dust, until a tragic occurrence catalysed the reconvening of the band: guitarist Jamie Paul Morris's death in 2019. The three remaining members – singer Daniel Binks, Steven Sciberras on bass and drummer Ben Hallett – set themselves the task of finishing what they had begun as a quartet more than two decades ago, both in honour of their departed bandmate and to present to the music world at large the product of their valuable time spent with him.
Comprised of 9 songs, all of which come in at around 3 to 5 minutes long, Supakarma is many things. An ambitious effort that attempts the coalescence of musical elements as disparate as feedback and maracas. A foray into themes like love and lust and life through heartfelt lyricism. In retrospect, it is a celebration of the legacy of one of its creators.
Rather than being steeped in what would be an understandable degree of morosity upon re-recording the melodies they had first formed alongside Morris in the 90s, though, Supakarma's self-titled is nothing if not utterly full of life.
Listen to the opening track, What Are You Waiting For, and you'll find yourself instantly agreeing. Take in the inaugural wailing guitars, screeching feedback and ominous jingling that sound as light and plaintive piano chords creep into the fray; this stunning juxtaposition between darkness and
tenderness, a common theme across their debut record.
As their sound veers from post-rock experimentation to mellower reflections and zany synth-scapes, Supakarma have us careering from style to style throughout and the musical whiplash is massively gratifying: while cuts like Digital Vision and You Could Be My Heroine are raucous, atmospheric and disorientating – with Binks' falsetto vocals à la Thom Yorke making their first appearance in the former – other songs like My Own Advice and Demons envelop the listener in wistful acoustic beauty. We are even treated to a singular instrumental, the groovy Calmer Coaster, as the record nears its conclusion.
A constant which ties all of the tracks together, however dissimilar they may be to one another in their respective sounds, is the proficiency and confidence of each band member as they unleash melodies that have sat dormant in the shadows for far too long. Sciberras' bass lick on powerful album closer I Remember You (Say Goodbye), for example, makes for a hypnotic accompaniment to Binks' hard-hitting voice, Morris's sunlit strumming and Hallett's intuitive drumming. Sure, there are some instances on the record of playing that could have been tighter – Hallett sounds off-beat at times in the first track, and not intentionally as in You Could Be My Heroine – but I have no qualms as to each musician's skill; the passion they have for their craft is always palpable on Supakarma.
Another such constant of equal importance is the striking lyricism that weaves in and out of the band's instrumentation. Treat this as a disclaimer, folks, and pay good heed: ignore this aspect of the record at your peril, for you'd be missing out on some lovely poetry that makes one pity the amount of time it has spent locked away from the public sphere.
The topics explored across Supakarma's 40-minute runtime include the rise of technology in Digital Vision, which arrives straight from left-field with an awestruck monologue regarding the Internet (remember – this is the late 90's) and on which Binks sings of how 'we are turning to stone/in our mobile homes'; the lyric 'suicide isn't fun/but here it comes' in New Test Cannonball, reflective of the inescapable chokehold that mental health can have on people; and the loss of love in the form of some of the most poignant words on the record, the line 'about a man/who picked a clover/and watched it fly away' in The Way It Is.
As you've probably gauged at this point in the review, I really enjoyed the experience of Supakarma. I was enthralled by the immediate idiosyncrasy of the first track; a quality which, to my delight, prevailed throughout the record's duration, in various forms. I found that, upon repeat listens, I caught things that I'd missed the first time around and, in that respect, I consider this LP an unearthed gem of a gift that keeps on giving.
Supakarma is a deeply bittersweet listen, as one cannot help but find themselves mourning the one member who is not here today to see his work finally out in the open, a reality worsened by the songs on the record being such brilliant compositions. Within that reality, however, the fact that this album is now seeing the light of day at all – let alone as an album finalised, after decades tucked away in the vault – is miraculous. No: it is the finest of tributes the other three members of Supakarma could have given to Jamie Paul Morris, and to music as a whole.
Supakarma: Supakarma – Out 4th August 2023 (Glass Mile Records / Forte Distribution)