From time to time, one of our contributors will recommend an artist/band they think deserves to be brought to your attention. No record labels, PR companies, bands or band's management will ever have made these recommendations. It is simply one music fan putting their taste on the line in the hope of sharing good music. The questions are intended to give just a basic introduction to possibly your new favourite artist/band.
So without further ado, let's crack on with another introduction, in which Silent Radio's Simon Poole recommends Beneath The Beach for your audible delectation.
*****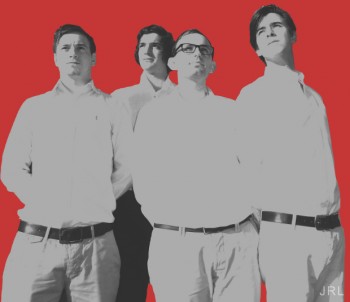 Who are ya?
Gregory John Madge, Neil Joseph Gray, Matthew Facy and Joshua Thomas. Although, we collectively and currently go by 'Beneath the Beach'.
Where are you from?
Hampshire, Hertfordshire, Devon and Cumbria. However, we met and live in London.
How long have you been doing what you're doing now?
Neil and I started writing material together a couple of years ago while we were at 'The University of Westminster'. It was just guitar layers really, playing around with modes and meter and trying to play Philip Glass's back catalog on guitars. We eventually got some ideas for a Dance and Minimalism based Math-Rock set which we began gigging with a bass player and an RC50 loop pedal, but we didn't recruit Matt and Josh until September '11. Ever since then we have been working on our approach to composition and have created what is recognizable as 'Beneath the Beach'.
Is being a musician your full time job?
We're all very busy session musicians, so we fill our days with driving a van for a certain orange-themed supermarket, sticking labels on bottles for a certain unethical pharmaceutical company and serving drinks in a bar which isn't worth naming. Oh, and Josh has a student loan.
How would you explain your sound to someone's 90 year old grandmother?
Imagine 'The Rite of Spring' but with a solid tonal center. Now, breed that Behemoth with the Leviathan child of Stephen Stapleton and Tony Wakeford and mix in a generic choice of electronic drum timbre and linear beats and you have something which may vaguely resemble a track we may have written. If she had a JVC NXD2, I'd probably just play her the record.
Are there any obvious influences in your music?
I think the most obvious influences are Steve Reich and Don Caballero. When we first started thinking about gigging, I wanted to play Math-Rock and Neil wanted to play anything but, so we were forced to compromise and we drew some serious influence from electronic dance music such as the use of extended sections to build layers and replacing the dreadful idea of having to make a friend who could play drums with an 808 emulator.
Are there any not so obvious influences in your music?
Wes Montgomery and Bach. I listen to a lot of Jazz and Wes is just about my favorite guitarist (sorry Pat). I mention him because the way we begin writing a vast amount of our compositions is with improvising over loops. I know there are a lot of great improvisers out there, but Wes has influenced me as a performer more than anyone, so I think it's justified to name him instead of, say, Eric Dolphy. I named Bach because we studied Bach a lot in music theory grades and during A Level music. The specific influence, however, is more along the lines of the theory itself. We understand, and use in everything we write, the principles of harmony. The important thing we draw from this influence is the knowledge of when and how to use or break the rules to give a piece of music drive, solemnity or break it down into something unexpected. I know we're probably going to get bashed for the aesthetic approach, but I think it's important.
Apart from yourself of course, what other band/artist would you recommend our readers check out?
Ornette Coleman. If you haven't heard of him, why not? He's a personal hero and a categorical genius. However, he is getting on, so check him out before he dies.
Best place for people to find out what you are up to?
Twitter and Facebook. You can access both from www.beneaththebeach.com.
Anything to declare?
There is absolutely nothing not to declare.
Beneath The Beach's The Dust In Modern Eyes can be purchased on a name your price basis from Bandcamp HERE