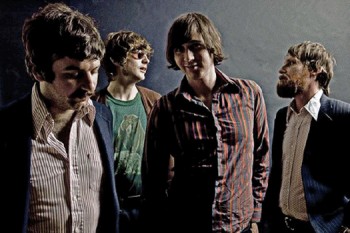 Few bands can be simultaneously timeless and relevant, but that's exactly the hi-wire act Zeus have become. Signed to Arts And Crafts and the sometimes support of Broken Social Scene, Zeus are not so much typical of the Canadian indie scene as they are classic British rock circa 1974-1975.
Taking their name from a mythological God, Zeus is a three- headed beast. Boasting three lead singers in Mike O'Brien, Carlin Nicholson, and Neil Quinn (not forgetting Rob Drake on drums), the Ontario outfit have gained attention across the pond for their bustling throwback style. A vision of guitars, hair, beards and glasses, you could be forgiven for thinking that this quartet has just been released from a time capsule buried beneath Paul McCartney's basement. Their guitars crunch with power pop, steeped in music from yonder but not entrenched in punk,disco or glam.
The band are readying the release of 'Busting Visions', their second LP. This will be released on So Recordings on August 13th, a much anticipated follow up to 2010's Polaris Prize-nominated debut 'Say Us', an album which topped CBC charts, won XM The Verge's award for Album of the Year, garnered stellar reviews from top rock mags like Q and Uncut and led to shows with Bright Eyes and Belle & Sebastian.
The single is out on July 31st, but you can get the download here: