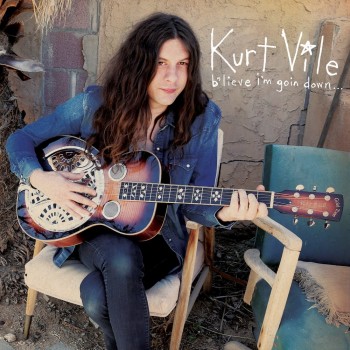 Misissippi psych stomper 'Pretty Pimpin' is the lead track from the b'lieve I'm going down… album, Vile's hotly anticipated fifth. It catches him in fine form but also in contemplative mood, and in the midst of an identity crisis.
The whole ensemble reads like the rueful dregs of a drunken weekend, swilling at the bottom of a bottle. Cluttered fingerpicking overlaps the stomp and walking bass in ordered chaos, like the strobing and pulsing of thoughts through a killer hangover. The lyrics, with a singalong rapscallion freedom, come fast and measured, and provide a hypnotic thrust.
Yet it's not the dregs of a weekend but seven years. His career to date has passed by in that kind of haze, and it's left him wondering about the changes those years have wrought. Throughout he barely recognises himself, rushing as he is through "Monday, no a Tuesday, no Wednesday, Thursday, Friday."
He hangover croons about hedonism: "All he ever wanted to be was someone in life that was just like/All I want is to just have fun/Live my life like a son of a gun." He's unsure the man made from his fantasy is really him yet laughs it off, treading the same distressed tightrope between buoyant and despondent the sonic palette does. In the chorus he dislikes what he sees before dismissing it in one titular sweep at the the coda: "But he's wearin' all my clothes, pretty pimpin!''
It's a flippant, tongue in cheek conclusion, and the resulting track breaks no moulds, but shows great depth, both musical and emotional. What's more it's vintage Vile, and for my money, he can play his bluesy outsider psychobilly until the end of days.
Release Date 21/07/2015 (Matador Records)
Kurt Vile Official | Facebook | Twitter | Soundcloud