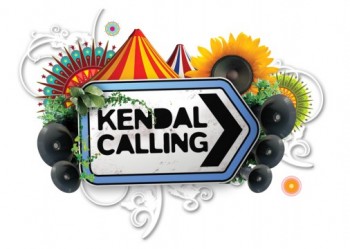 – LOWTHER DEER PARK, PENRITH –
Now I'm not one for moaning unnecessarily, alright that might not be totally true, but my start to this year Kendal Calling experience is not the best, and it is the same for some of the other folk that used the shuttle bus from Penrith train station to the festival.
For some unknown reason the drop off point is not as near to the main entrance as we would have liked. As I get off the coach there is a queue of punters sat down waiting to be permitted entrance on to the site. Eventually someone arrives to start letting people in, but this is at around eleven o'clock in the morning, but as the arena is opening at twelve noon it is not exactly ideal. When I get to the front of the queue I'm pointed in the direction of the box office, only to be told we need to go to the other box office. I'm given some vague directions which mean walking back the way the coach had brought us.
Whilst walking down the road I meet up with some other weekenders that have been told the same thing. With no signs or stewards to ask we aimlessly walk with all our gear in what we think is the right direction. Thankfully a local person pulls over and points us the right way. After over an hour of walking we finally reach our intended destination, albeit well after the main arena has opened.
I'm now all unpacked and ready for a drink and some live music, so my first port of call is the Soap Box stage for Mr. B the Gentleman Rhymer, who is the king of Chap-Hop. Thankfully Mr B puts short thrift to my unpleasant start to day with his handlebar moustache, banjolele and his witty songs my woes are almost, but only almost, forgotten. As he plays us tracks such as 'Timothy' (song about Tim Westwood), 'Straight Out Of Surrey' (to the tune of Straight Outta Compton by NWA) and 'Let Me Smoke My Pipe' (a reworking of Chad Jackson's Hear The Drummer Get Wicked) everyone is having a good old laugh.
Because of Mr. B's late start due to technical problems by the time I get over to the main stage the Stereo MCs are already in full flow. Easily recognisable frontman Rob Birch has amazingly not changed since their hay day in the very early nineties. As the gaunt rapper gives us songs new and old, it is clear that the excitement in the crowd is building as we all wait for that one track. When it finally arrives the whole of the main stage area goes rather mental, and if I'm honest, when 'Connected' kicks in, it still sounds as good as it did all those years ago.
Over at the Calling Out stage I manage to catch the end of the Wave Machines set and by the atmosphere in here I wish I'd have set off a little earlier. For their closing track they give us 'Punk Spirit' and even one of the security chaps is stood on a ledge in the pit going for it with a beaming smile on his face.
I'm now left with the choice of headliner Calvin Harris on the main stage or General Fiasco, so I opt for the latter. Even though these Northern Irish boys don't have a back catalogue to fall back on, every track they do play, such as 'Rebel Get By', 'Ever So Shy' and 'I'm Not Made of Eyes' are met with much adulation from a packed out marquee.