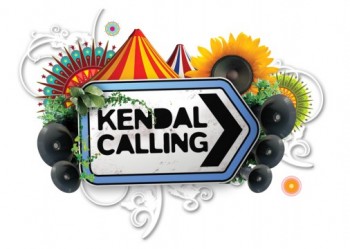 – LOWTHER DEER PARK, PENRITH –
Well it's the second day and as is to be expected I've had very little sleep, even though I thought that last beer before bed might help. Anyway the weather isn't too bad and after a bite to eat and probably the worst brew I've ever tasted, I'm ready to rock n roll again.
Over at the Calling Out stage Stormy Corner swagger onto the stage. This six piece band from Skelmersdale certainly have plenty of attitude, with half of them looking like they have just walked off the football terraces in the eighties. Their powerful indie-rock could easily fill the gap and manner that Oasis have left in the music scene. Stand out tracks from the set are 'Rascal' and 'Counter Fit'.
It's time for a quick pit stop at the bar and then to the solar powered Croissant Neuf tent to see a previous night's recommendation. Johnny 5th Wheel seem to fit somewhere between Mumford and Sons and Gorgol Bordello. They start their set with a walk through the crowd playing their instruments which include accordion, fiddle and a melodica. By the time they are back on the stage and a couple of tracks in, every foot in the vicinity is well and truly tapping along.
Back again to the Calling Out stage and Seal Club Clubbing Club are just finishing their set. The tent is full to bursting and it would appear that they could have easily deserved a later time slot.
Now at this point I've realised that one of CityLifers very own reviewers Damion Larkin is on the line-up, so I get over to the small tent to catch his stand up routine. I get here at the correct time and there is already someone mid-set. I ask one of the people working here the score to see if they can shed some light on the situation, the only reply I get is a shrug of the shoulders and a mumbled "I dunno" so after hanging around for a short while I eventually give up.
The delightful Jesca Hoop is next on my list and as always she does not disappoint. She is received well and soon as she mentions Manchester she gets a loud round of applause and cheers from almost all of the crowd.
To end my evening's entertainment a bit of comedy is in order and who else could choose but Salford's very own bard John Cooper Clarke. I've seen him many times over the years and tonight I'm slightly taken aback as he walks on stage, for his usual tatty carrier bag of files and loose sheets of paper has been replaced by a swish new holdall.
He seems to be in a jovial mood tonight as runs through poems I have heard plenty of times, but still enjoy each and every time. 'Hire Car', 'Home Honey I'm High', 'Attack of the 50ft Woman' and 'Chicken Town' are all motored through and at points we all join in.
– Read Sundays Events Here –