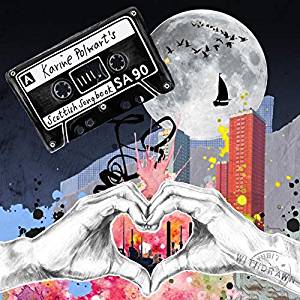 What do you think of when you think about covers? 
For me, it's the following: bad (but enthusiastic) karaoke, buskers (and the cover is almost exclusively Wonderwall) and Michael Bublé crooning away 24 hours a day seven days a week during the Christmas period.
I'm not saying I don't like them – more that when there is so much brilliant new music around, I think you probably have to work a little bit harder than usual to make a cover something that's going to be worth my time (ah, the ego of the amateur music reviewer, out in full force).
A second admission – when I asked to review Karine Polwart's Scottish Songbook, I didn't know it was an album of covers. I imagine it said so, somewhere in the blurb but my decision process went something like this: I haven't heard of this artist, I would like to hear something new, I like Scotland. 
Dear reader, I am aware that I am not exactly endearing myself to you. It felt only right to be honest before I really got into things.
So, let's get into things. The redemption.
Karine Polwart's Scottish Songbook brings us 11 Scottish tunes spanning a 50 year time period. At first glance of the track listing, it doesn't feel like there's anything to tie these songs together. The Waterboys, Biffy Clyro, Deacon Blue – if this was a playlist of the originals, you would question the logic.
I listened through the entire album once and then went back, listening to Polwart's version and then to the original. The words are the same – everything else feels entirely different. The council worker in 'Dignity' is perfect political folk fodder, 'Swim Until You Can't See Land' takes me across the border, sand between my toes, crashing waves filling my ears.
But it's 'Since Yesterday' that really cements this as (for the want of a better phrase) 'not just covers'. Polwart uses a recording of her grandfather singing a traditional Irish song in the track. She says that for her, the song isn't about teen love anymore; it's about ageing, Alzheimer's, remembrance and loss. The song doesn't just sound different to the poppy original – it feels entirely different.
What I love about this album is that it somehow manages to be both homage and innovation all rolled into one. I don't ever feel like Polwart is saying 'look, I've made this bad pop song so much better'. It feels to me so much more like 'look, you know that song we all BLOODY LOVED when we were teenagers? I've made it different. I've made it something you might like as much as you like the original, but for different reasons'.
Karaoke fans, Oasis buskers and Michael Bublé – take note. This is how covers should be done. 
Karine Polwart: Scottish Songbook – Out Now (Hegri Music)