From time to time, one of our contributors will recommend an artist/band they think deserves to be brought to your attention. No record labels, PR companies, bands or band's management will ever have made these recommendations. It is simply one music fan putting their taste on the line in the hope of sharing good music. The questions are intended to give just a basic introduction to possibly your new favourite artist/band.
So without further ado, let's crack on with another introduction, in which Silent Radio's Simon Poole recommends BY TOUTATIS for your audible delectation.
*****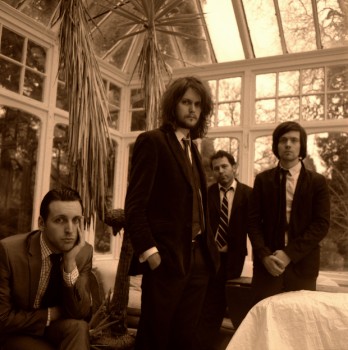 Who are ya?
Dried out by salt air and fine wines, By Toutatis are a collection of fops and grizzled folkies who use the "Three Bs" to create their distinctive sound: baritone, broken things and buzzing noises.
Where are you from?
Many places, converging generally around the wonderful land of Saltburn-by-the-Sea.
How long have you been doing what you're doing now?
Three swift and sexually-charged years.
Is being a musician your full time job?
Not having full time jobs is our full time job. Although drummer Ben works at the amazing Georgian Theatre in Stockton.
How would you explain your sound to someone's 90 year old grandmother?
Picture that favourite dancehall from your youth. Remember the glitz and the glamour? The dancing? The nights that never ended…? Now imagine it burning – slowly reducing to ashes festooned with shards of glitterball and cremated bowties. See the band resolutely playing in the corner? That's us. With a wind organ.
Are there any obvious influences in your music?
Jacques Brel, Tindersticks and Yann Tiersen have been bandied about…
Are there any not so obvious influences in your music?
The Third Ear Band's soundtrack to Macbeth is seminal.
Apart from yourself of course, what other band/artist would you recommend our readers check out?
Dressed Like Wolves, RM Hubbert, Natasha Haws, General Sherman…too many more to list.
Best place for people to find out what you are up to?
www.facebook.com/bytoutatis is where it all seeps out from. Tweets are regularly freed from @bytoutatisband
Anything to declare?
We killed the original By Toutatis.