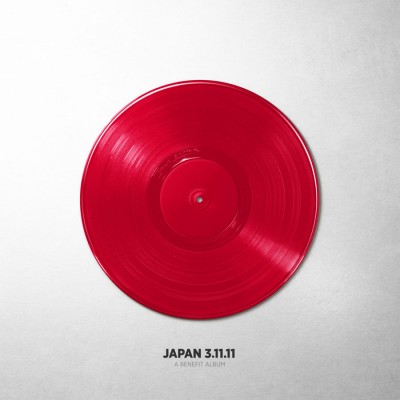 Chicago-based independent label Polyvinyl is set to release 'Japan 3.11.11: A Benefit Album' compilation. The twenty-three track album includes b-sides, rarities, live performances, covers and remixes from artists such as of Montreal, Deerhoof, St Vincent, David Bazan, Xiu Xiu, Love Is All, Casiokids, Starfucker, Efterklang, Owen and many, many more.
'Japan 3.11.11' is available digitally now. A limited edition 180-gram red 2xLP version (limited to 2000 copies) will be released on 26th September 2011. The vinyl, including an instant mp3, is available for pre-order now here.
In early March, Japan suffered one of the largest earthquakes in recorded history, a tsunami, which devastated its northern coast, and a nuclear disaster the scope of which is not yet fully understood.
Soon after the news broke, Polyvinyl reached out to its family of artists — and friends of that family — to put together a compilation to raise money for the victims of this tragedy.
Over the course of 80+ minutes, the album features a wide spectrum of music: from St. Vincent's remix of 'Sex Karma' (a stand out track from of Montreal's latest album 'False Priest') to a live cover of 'Video Killed the Radio Star' by gifted Japanese songwriter Shugo Tokumaru. Also included are a variety of hard-to-find tracks, including a previously unreleased song from experimental post-rock outfit Pele ('Pequod') and an outtake from Starfucker's new album 'Reptilians' ('The Wisdom of Insecurity').
The compilation also includes a few local Champaign, San Francisco, and Tulsa bands who will additionally be organizing benefit shows in their areas to raise additional funds for those affected by the earthquake and tsunami.
All profits from sales of this benefit album will be donated to the American Red Cross to support the International Red Cross in their ongoing relief efforts in Japan.
'Japan 3.11.11' Tracklisting
01 Deerhoof: "Giga Dance (Live)"
02 Love Is All: "Pappas Tant"
03 Efterklang: "Alike (Opiate Remix)"
04 Birthmark: "Big Man"
05 Kit: "Brass Palms"
06 Shugo Tokumaru: "Video Killed the Radio Star"
07 Asobi Seksu: "Vicious Bears"
08 Caithlin De Marrais: "Sorry"
09 Alright: "Moving"
10 Owen: "Guest List"
11 Pele: "Pequod"
12 Take Care: "Living Forever"
13 Toe: "Ordinary Day"
14 Xiu Xiu: "Hyunhye's Theme (Acoustic)"
15 David Bazan: "American Flags"
16 XBXRX: "Want"
17 Midstress: "Too Many Shoes, Not Enough Feet"
18 Starfucker: "The Wisdom of Insecurity"
19 of Montreal: "Sex Karma (St. Vincent Remix)"
20 Casiokids: "London Zoo"
21 Lizard Police: "Same Socks"
22 Joan of Arc: "Steady (Demo)"
23 Common Loon: "A Moment in Energy Transfers"