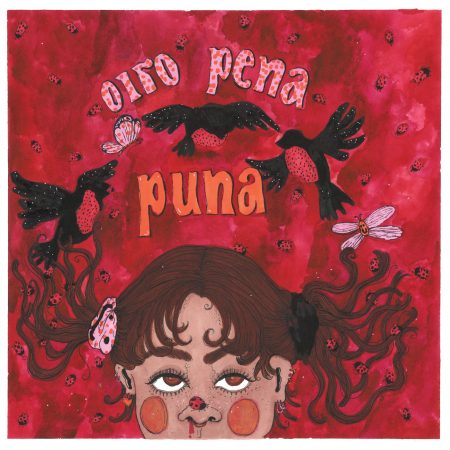 Here is a chance to browse through the Silent Radio rack of this week's album releases, an intriguing array of generally newer artists to discover.
Oiro Pena            Puna     
Finnish jazz collective creating a mix of lo-fi spiritual jazz, experimental, and avant-garde music forms. It includes four vocal tracks recorded with Merikukka Kiviharju, which feature both original lyrics and those sourced from traditional Finnish folk songs.
Emil Amos' Zone Black   Zone Black         
Taking classic pieces that he grew up with (like the "Lonely Man Theme," from the original Hulk TV series) as a starting point, he imagined an alternate reality where composers explored more adventurous sounds, while in more extreme states of mind and on many more drugs!
Holy Wave          Five of Cups      
Sees the band moving away from the early Sgt. Peppers-meets-the-Velvets sound yielded to more sophisticated melodies and tripped-out instrumentation, effectively steering their music away from sun-bleached nostalgia to a colour-saturated dimension where sounds of the past, present, and future intermingled.
Dun Ringill          150- Where The Old Gods Play Act I       
Nordic folk, doom and progressive metal meet storytelling lyrics with the soundtrack for a prospective movie with a story, based in Scotland in early 1900, centring around the manipulation of the church with a priest whose secret agenda only reveals itself at the end.
The Sherlocks    People Like Me & You   
The latest album sees them producing material that is hookier, edgier, full of attitude and just plain bigger than anything they've done before.
Bianca James     Bianca James    
Debut full length release from Canadian artist creating a timeless blend of 1960s styles with a melding of elements of Motown, Soul, and modern pop.
Art School Girlfriend      Soft Landing      
An album that finds Polly Mackey shifting her sound towards tactile electronics whilst retaining the floating melodies of her debut
I Am a Rocketship            La Cruella           
A mix of warm vocals, loud guitars, and cool electronic beats to explore that place where rock and trip-hop never quite met.
Hans-A-Plast      Hans-A-Plast, Hans-A-Plast II & Ausradiert          
Reissues from late 70s/early 80s German punk band.
Bathe Alone       Fall With The Lights Down (Velma) & (Louise)   
This double EP from dream pop artist acts as a sonic expression of nostalgic longing, with each part dedicated to one of multi-instrumentalist Bailey Crone's great-grandmothers whom she never met.
M.A.G.S               Destroyer           
LA based artist Elliott Douglas' album glides between genres from funky garage rock to minty alt-pop with a punk-inspired energy.
Supakarma         Supakarma        
Band with a brash experimental indie edge whose debut album was recorded and shelved in the late 90s but has now been revisited and rerecorded following the death of guitarist Jamie Paul Morris.
Hunter & Wolfe                I deserve this    
They often wrap their vulnerable lyrics in sarcasm and loud indie-rock stylings, drawing inspiration from Elliott Smith, St. Vincent, Phoebe Bridgers, and more disco than they'd care to admit.
Double Wish      Light Split Sparkle           
Expanded edition 10 track version of their debut EP showcasing their dark-sunshine-pop sound.
Cian Ducrot        Victory
Irish singer-songwriter follows up his Top 20 hits, 'All for You' and 'I'll Be Waiting' with a debut album.
Moundabout     An Cnoc Mór     
A duo made up of Gnod's Paddy Shine and Phil Masterson with an album of psychedelic Irish folk music named after The Big Hill Of The Galtees, an imposing sandstone and shale peak in Munster
Sunshine Frisbee Laserbeam      Mortuary Pantomime  
Eight track sub-30-minute release expanding on the Weezer and Titus Andronicus-referencing layered college rock sound they created on Blackout Cowboy, the resulting material is both heavier and more dynamic.
Rob Winstone   Sifting through Heaven
The hymnal organ chords, sketched out acoustic guitar phrases, scattering drum thuds, and meditative field recordings flit between tenebrous and incandescent.