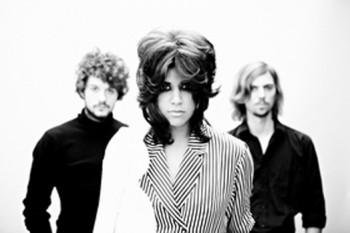 Nife are a female-fronted 3 piece rock band, hailing from London via Austria and Bath. They describe themselves as "60s Psych meets Krautrock in a Classic Rock casing". They are Nicky (AKA Nife – lead singer and guitar), Howey (drums) and Scott (bass guitar).
Their music is a collage of moody undertones, affecting lyrics and distorted noisescapes. Visceral and honest, Nife oscillate between a 90s grunge-drenched wall of sound and the sparse simplicity of a lonely distorted electric guitar.
Citing Krautrock acts such as Faust, Can and Neu as influences, Nife also throw the classic 60s guitar sounds of Jimi Hendrix and Free into the pot, topping off with tinges of the Yeah Yeah Yeahs, Siouxie Sioux and PJ Harvey for a hefty dose of free-spirited, loose-hipped glory. This is evident in their unstructured live performances where no two gigs are ever the same. Lead singer Nicky states: "We enjoy going off on one, we know how our live shows will start, but never how they will end."
Amid the chaos, Nicky's melodious, powerful vocals and distinct open guitar style are backed by a rocksolid rhythm section. Scott's grounded bass grooves weigh a heavy anchor while Howey's Moon-esque drumming injects pace and drive.
The strength of their live shows prompted a move away from their hometown of Bath. After building a loyal fanbase from their home gig circuit, local press grew keener and predicted bigger things for their vintage leather-clad starlets. Their prophecies were fulfilled 6 months ago when a deal with a London management company ensued – and off to the Big Smoke they ventured.
Nife – 'If I Was There' Free to Download
The serendipity continued when Nife found a fan in highly accomplished producer Tim Oliver (Sinead O'Connor, Happy Mondays, New Order – and many others), after his friend attended a gig and presented him with a CD. Since then, Tim has become a mentor to the band, helping develop Nicky as a performer and recording their new album in Peter Gabriel's Real World Studios.
Nife have already played a slew of well-attended shows in the capital, no doubt bolstered by the wordof-mouth reputation they are quickly accruing. A relentless gigging schedule has helped the band to hone and focus their sound and produce the dynamite of their live performances. Seeing them on stage is a super-sensory experience.
Debut single "Chemicals" was released this week, the debut album of the same name is released 13th August
@nifemusic