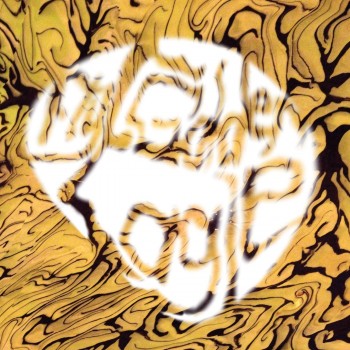 ATO Records' press release states that this album is "Nashville Psych-Rock for fans of Pond, King Gizzard & The Lizard Wizard, T Rex, The Doors". I would argue that they're not really too much like any of those bands at all, but still, they're right, if you like those bands you'll probably like Fly Golden Eagle. They're brash, bold, and daring enough to sonically slap you out of your mundane, monotonous lives for a moment. There are elements of the above listed bands throughout this genre-hopping album in attitude, if nothing else.
Most bands that I would associate with psych are guitar-led, dark and trippy, but this contains much more of a groove – a direction that Tame Impala have leaned towards of late with their almost disco album Currents. The Doors comparison? Well, they do have a keyboard player, but that's about as far as it goes. The vibe is altogether different, not as cool, and the subject matter is of a sunnier disposition.
Opening track 'You Look Good To Me', from the first beat, hits you with most of the instruments at their disposal. It settles into what sounds more like 90s acid jazz ('The Frighteners' by Corduroy) than anything else, with a brass section and Hammond organ accompanying a funky bassline and beat. It slows momentarily to mimic Curtis Mayfield with a little wah-wah, backing vocalists and horns.
'Horse's Mouth' leads with a solo guitar that has Nashville written all over it, and eventually, the psych starts to shine through. There's something about Ben Trimble's vocal style that implies they could get away with anything. Listening to this tune, you can just imagine the onstage craziness, especially if you've witnessed Foxygen. These are kind of like Foxygen, but with a 60s/70s TV theme replacing the random radio channel concept of the …And Star Power album.
Quartz Bijou plunges further into the depths of psych for the next couple of tunes, sidelining the trumpets in favour of loud, distorted, blues guitar riffs. "I was born a sinner and naked into the world I came…". The chorus has been borrowed from The Monkeys, reinforcing my 60s/70s TV theory – "I'm not your stepping stone".
The two ballads that follow are sickly sweet, drenched in nostalgia and adolescent innocense – something that you might slow-dance to at a school disco. I've found they work better and are very enjoyable as stand-alone tunes, but the sharp switch of personality from track to track here, seems too much to take. Ben's voice exaggerates words to an extent that he sounds as though he's parodying someone. Kings Of Leon, perhaps. It's all a bit tongue-in-cheek, isn't it? The way he holds a note during 'The Slider' becomes almost unpalatable. Thankfully, the fuzzy, moody guitars take over again during the excellent 'Heady Ways'.
'Medicine Hat' sounds like it actually is a 70s TV show theme song, broadcast at peak family viewing times – it reminds me of The Fall Guy, or Different Strokes, not quite Happy Days, but close. 'Boyhood Child' is another highlight, with the balance of instruments just right, creating an uplifting groove that breaks down before a euphoric chorus. 'Tehuacana' (a town in Texas) increases the tempo and has a Blues Brother vibe to it, reminding me of the scene where James Brown's Gospel congregation take to backflipping down the aisles after apparently seeing the light.
This album has me all confused – jumping from psych blues to glam rock, and from dark and brooding to sweetness and light; it's enough to polarise most listeners. The live show will most likely be pretty spectacular, and they've done more than enough to persuade me to buy a ticket, partly out of curiosity. I personally hope for more blues and groove-based psych from them. The slower, more mainstream sounding tunes have a tendency to get under my skin when, maybe, I just want more of the darker stuff.
Whether y0u like all that they have produced here or not, there's no denying that it's really expertly produced. Whether they will pick a genre or two and stick to it remains to be seen, but this album serves as something of an eclectic, exuberant and indulgent sample tape of ideas for a great band.
Release Date 31/07/2015 (ATO)
Fly Golden Eagle Official | Facebook | Twitter | Soundclound