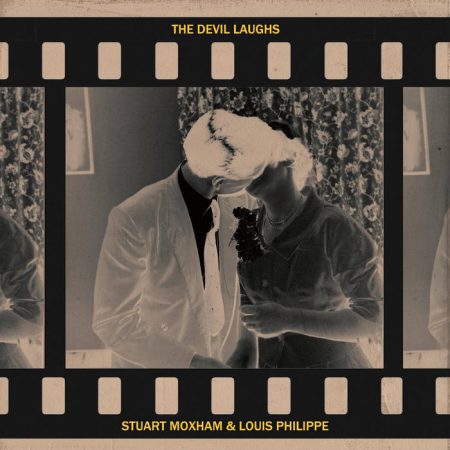 Stuart Moxham was part of indie-folk legends Young Marble Giants whose minimalist approach gained many fans including Kurt Cobain, whose own music may have been a million miles away in terms of volume and power, yet the similarities were there in the sentiments and attitude. When Young Marble Giants went their separate ways in 1980 (and again in 2015 after a brief reformation), Moxham carried on releasing music in many guises. This album, recorded a few years ago but only seeing the light of day now, sees Moxham team up with Louis Philippe, a French indie legend, who manages to mix chamber pop sounds with an underground vibe as well as being a football journalist and singer. Philippe brings the spaciousness and epic open fuel to Moxham's minimalism. On paper it shouldn't work, yet somehow these two have been collaborating since the mid 90s, and their latest album, 'The Devil Laughs' lands just in time for what's left of summer.
The entire album sounds as if it was written with relaxing sunshine-filled days in mind. Opener 'Tidy Away' is one of the most laid back summery tunes you'll hear all year, a gentle folk infused blast with electric guitar riffs creeping in and lush vocal harmonies giving an air of folk psych bliss. 'Love Hangover' has subtle rhythms underpinning its pop sensibilities and isn't a cover of the Diana Ross song, but Moxham and Philippe's own delicate take on a pop tune, whereas 'Fighting To Lose' is bathed in fragile summery folk lines "In my mind I'm fighting to lose the habit I have of failing to choose", Moxham reflects, like a lot of Moxham and Philippe's work there's subtle darker undercurrents at play but all cloaked in a psych folk haze to lift the mood. The harmonies really shine on 'Singing Out' which sounds like it could have been a long lost Beach Boys tune given a folk twist, all harmonies and gentle guitar melodies, in abundance.
In these strange times it's good to have an album of gentle relaxing tunes to immerse yourself in. It may have taken six years to emerge but 'The Devil Laughs' has been worth the wait. A beautiful psych folk summer soundtrack for relaxing to, and letting the worries of the world disappear, even if just for a short while.
The Devil Laughs: Out Now (Tiny Global Productions)