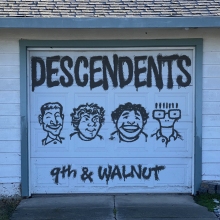 Descendents are one of the most influential bands to have existed in the punk scene. Their classic album "Milo Goes To College" paved the way for the creation of pop-punk, and without it, the likes of Blink 182, Green Day, Sum-41 and The Offspring would not have been formed.
The central figure in the band, vocalist Milo Aukerman joined in 1980, and turned a group of young punks who were yet to really direct their focus, into a more tangible band with a personality and uniqueness that has been remembered and admired for 40 years by contemporaries and later generations.
Their latest release, '9th & Walnut' explores those early days of the groups formation, before Milo, with all of the songs written before his arrival, by the rest of the group in the late 1970s. The album contains a mixture of tracks recorded in the early 2000s, and some recorded over the last few years.
My first thought upon listening to the record was how short all of the songs were, rarely going past the two minute mark. Frantic, hectic and full of energy, the album contains the youth and vitality of a young punk band, beginning to hone their craft, but it also contains that sometimes aimless, directionless burst of energy that only youth can afford. It's an interesting listen, but at no point does anything really stand out and grab me. 9th & Walnut seems like more of a wacky niche addition to the bands back catalogue rather than a serious edition, a reminiscent tour of the glory days of Punk. I say this, because their last record, 'Hypercaffium Spazzinate' saw the band continue as they meant to go on, whereas 9th & Walnut seems like a sideways step, an in-between record made more for big fans than for new listeners.
Although this record certainly won't set the world alight, it's a fine edition for any big fan of the band, or any music fans interested in the early So-Cal Punk scene
Descendents:9th & Walnut – Out Now (Epitaph Records)