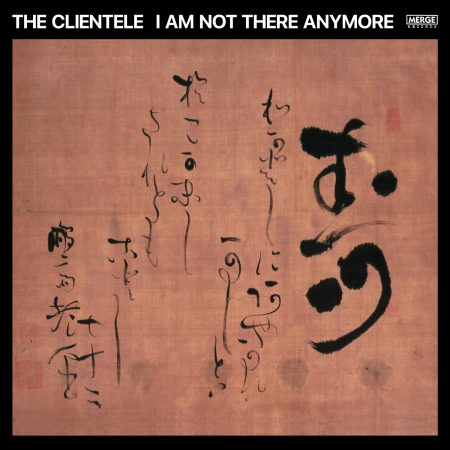 The Clientele has been described as a band who rather than merely creating their own individual sound have gone a step further to create their own world during their 32-year career. It is characterised by a hazy, shimmering, understated guitar pop married to an evocative lyricism. Their first release since 2017's 'Music for the Age of Miracles' marks their contentious equivalent of Bob Dylan going electric. For 'I Am Not There Anymore', band leader Alasdair MacLean bought a computer which offered more opportunity to experiment at home rather than eat up studio time trying to figure out arrangements and awkward time signatures. Consequently, The Clientele has been able to incorporate elements of post-bop jazz, contemporary classical and electronic music into their sound making 'I Am Not There Anymore' their most expansive and cinematic record.
MacLean's lyrics on the album evoke recollections of both childhood and early summer 1997 when his mother died while the title has an ambiguity that welcomes differing interpretations and perspectives. It contains descriptions of images that remained stuck in his mind because it is easier to focus on those images which become a symbol of something worse that defies words.
Although at eight minutes it is the album's lengthiest track by a considerable distance, opener 'Fables of the Silverlink' gives an extensive guide to the qualities that make this a fantastic album: from its cello intro which becomes a repeating motif, beats, vocals and melodies recalling 'Forever Changes' era Love, the addition of flamenco style handclaps and Alicia Macanás's Spanish vocals, it is a song that manages to be busy yet understated, shifting in tempo, exquisitely coated in memory, undeniably brilliant but perhaps the avoidance of anything resembling a big chorus explains why the Clientele have been consigned to devoted niche status.
Of the album's 19 tracks, four are 'Radials', as in the spokes in the centre of a wheel, calming interstitials, often piano or music box instrumentals, composed by drummer, pianist and celeste player, Mark Keen (although they are respectively B, C, E and H which gives cause to question whether others were omitted or the titles were chosen enigmatically) and also a brief, dramatic 'Segue 4'.
'Garden Eye Mantra' with its violin and viola swirls conjures childhood and countryside with a sense that life is happening elsewhere. Like many of the songs, it conjures simultaneously contradictory emotions exemplifying why music is so good at capturing the fluctuating state of humanity.
'Lady Grey' has one of the most gorgeous and immediately memorably melodies. The piano drifts tangentially to the strings creating a welling of emotions while MacLean sings "All the beautiful things are opaque" and enigmatically "My mother taught me how to die/ It's like playing hide and seek". Maintaining the theme but with a vastly different sound, 'Dying in May' has frantic beats matching the feverishness described with echoes of fear and death while 'Conjuring Summer In' quotes work from David Thompson, Gaby Wood, Rudyard Kipling, John Berger and Vernon Scannell and the spoken words are a murmur partly buried under piano, beats and strings.
'Blue over Blue' utilises delicately plucked strings, horns softly swelling, unexpected beats, an intermission that could be a 60s children's TV theme to illustrate one of the album's pre-eminent qualities, memories that are ultra vivid yet sepia and unreliable. The bossa nova shuffle of 'Claire's Not Real' merges with chamber pop and MacLean's words mix the specific ("The fire-lanes and the bridleways / The sculptures made of rain / On the 15th August / The fires came back again") and the uncertain ("But as the night-time fades away / I don't know, I don't know anyway").
To discordant strings, Jessica Griffin of the Would-be-goods reads extracts on 'My Childhood' with 15th August appearing again as a significant time, part of a pattern of dates, names and images recurring throughout the album to create an accumulation of detail.
Thirteen songs in, there is no diminishing of standards, 'Chalk Flowers' is one of the album's finest songs with its muted trumpet, piano and strings quietly stirring strong emotions. 'Hey Siobhan' starts with an air of Velvet Underground at their most fragile, its pictures of kissing under rowan leaves, horse guards breaking up a party and an Edwardian street suggesting how fantasy creeps into memory.
'Stems of Anise' and 'Through the Roses' offer further examples of how there is no shortage of melodic gifts on 'I Am Not There Anymore' but a praiseworthy reluctance to ram them home. Penultimate track, 'I Dreamed of You, Maria' is a resigned trumpet serenade remembering how "your sickness lay so light on you" mixed with recall of the tiniest details "Bindweed on the railway gate". The album concludes with 'The Village is Always on Fire', which revisits the monologue of 'My Childhood' with children's voices, beats and cello adding to the spell.
'I Am Not There Anymore' is an astonishing record that is certain to reveal unexpected details on its twentieth, fiftieth and hundredth listen, gradually compiling its picture, offering a reverie in which to be fully immersed.
The Clientele: I Am Not There Anymore – Out 28th July 2023 (Merge)
The Clientele – Blue Over Blue (Official Music Video) – YouTube