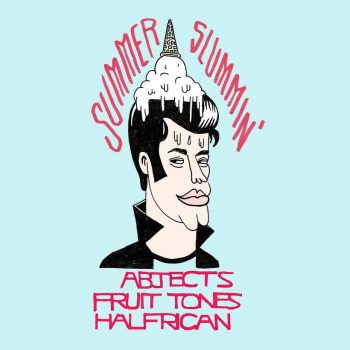 Featuring three of the label's best and exciting Garage bands, Fuzzkill Records are releasing a split so you can rock all summer long.
'Summer Slummin' includes Abjects, Fruit Tones and Halfrican, hailing from London, Manchester and Glasgow respectively. With two tunes apiece, all three bands impress. It's not anything too technical or complicated but at the end of the day, its good old-fashioned rock 'n' roll; and done well!
Alot of bands who claim to be "rock 'n' roll" only ever seem to imitate what they think rock 'n' roll is, songs about women, whiskey and rocking all night long, whatever the fuck that means.
Actually, rock n roll is about breaking down the barriers of conformity and saying, "fuck you" to the big wigs. That's what I feel songs like "10/10" (Halfrican), "Double Bind" (Abjects) and "Just Feeling Lucky" (Fruit Tones) do well. They make you feel good rather than making you cringe at old men playing mediocre blues/rock.
In short, 'Summer Slummin' isn't stereotypical; it's unique enough to keep you interested and get ya head nodding.
Due for release on 22nd July, the three bands will also be touring together:
Saturday 23rd – Shacklewell Arms London – (Abjects, Fruit Tones & Halfrican)
Sunday 24 – Big Hands Manchester – (Halfrican & Fruit Tones)
Fri 29 – Broadcast Glasgow – (Abjects, Fruit Tones & Halfrican)
Sat 30 – Leith Depot Edinburgh – (Abjects & Halfrican)
Sun 31 – Conroys Basement Dundee – (Abjects & Halfrican)
The Manchester date at Big Hands is certain to be a great evening of proper rock n roll with Halfrican and Fruit Tones. You can buy this release and support the label HERE.
Summer Slummin Track Listing:
Fruit Tones – Night Bus Going Nowhere
Abjects – Double Bind
Halfrican – Angela Sha La La
Abjects – Messed Up
Halfrican – 10/10
Fruit Tones – Just Feeling Lucky
Fuzzkill Records Facebook | Twitter | Soundcloud