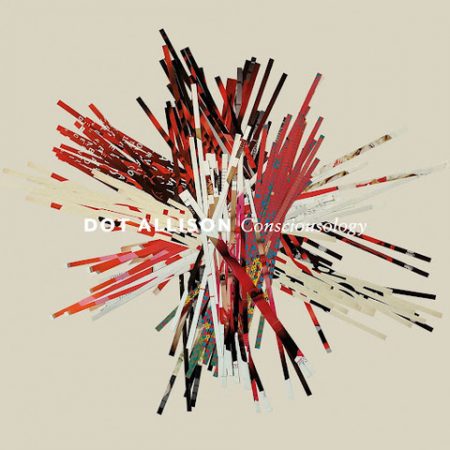 Concept albums were scorned and derided for a long time. Recently, the pendulum has flipped and significant numbers of long players, if not advertising themselves as concept albums, have an underlying theme that links the songs. This could be a response to streaming and the need to make long-playing records relevant as entities rather than a collection of individual songs that can be easily shuffled on a digital platform. When every possible variation on the traditional song subjects of love, loss and betrayal has surely been exhausted, it is welcome to hear more adventurous topics.
'Consciousology', the latest album from former One Dove singer, Dot Allison, is a classic example.  Dedicated to her musician mother and botanist father, it is an exploration of the differing levels of consciousness in all self-organising, natural systems. While grappling with feelings of love and loss, it links this to the nature of molecular and electromagnetic pulses. While this could make for a chin-stroking visit to pseud's corner, remove all the theory behind it and it is still a deeply engaging and often sumptuous listen.
Allison has been joined on the album by some wisely chosen collaborators. Hannah Peel provides string arrangements to four songs while Ride's Andy Bell adds guitar on a couple of tracks. Opening tune, 'Shyness of Crowns' is the first of the Peel arrangements. While the plucked strings weave amongst full-blooded orchestration and electronics, Allison's vocals drift floatily in a manner reminiscent of Jane Weaver, making for a gorgeous start to the album. The song title refers to the behaviour of trees and how they distance at the wood's crown; themes of interconnection are apparent in references to water, flowering, entanglement and the heart's sonar patterns.
'Unchanged' features the first of Bell's contributions, together with the theremin of Dorit Chrysler, chosen because it uses electromagnetic fields that lie beyond the reach of human senses which fits the album's concept. They combine to produce a song mixing an initially uneasy freak folk air but grows like a meadow of flowers opening in sunshine and a refreshing breeze before a reminder of the theremin's darker frequencies.
'Bleached by the Sun' is meta in its references to violas and "a cello sings of the curve of my spine" reflecting the impact of instrumentation on the body while Allison's spine-tinglingly wispy vocals and the orchestral arrangement lift the song. 'Moon Flowers' sees her singing of planting blooms on that planet in a song about humans recognising their place in the complex network of life and respecting the quantum systems they are hellbent on interrupting while the slowly dramatic strings contrast with the delicate melody.
The album's one instrumental, '220Hz' is a bubbling electronic piece taking its title from the frequency at which tree roots communicate below the ground creating a wood wide web. A Brachyglottis Sunshine plant makes a guest appearance on 'Double Rainbow'. It was placed on top of a piano and had its voice recorded through a Neumann U67. It combines with acoustic guitar and Allison's voice to quivery effect in a song that celebrates nature's patterns, molecules and a cascade of colours. 'Milk and Honey' has her caressing voice offering to "walk 10,000 suns to have you next to me" while a minimal piano line is elevated by swelling strings.
'Mother Tree' with its reference to spreading roots is inspired by Suzanne Simard's writings on trees which acts as hubs for vast underground mycorrhizal networks, electronics gently brushing against acoustic guitars while a theremin sends greetings from a distant galaxy. The closing track, 'Weeping Roses', is the most stripped back track on 'Consciousology', prompted by a tape gifted to her in the 1990s by Andrew Weatherall which included two tracks by Tim Hardin. It completes an album that achieves the best of all worlds, succeeding in both theory and practice.
Dot Allison: Consciousology – Out 28th July 2023 (Sonic Cathedral)