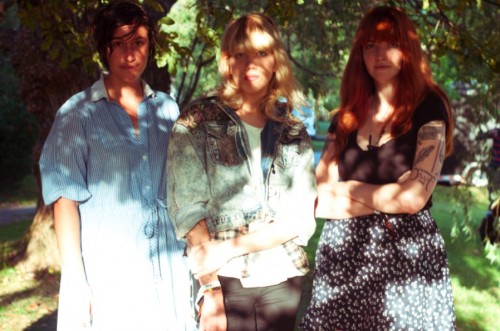 – THE RUBY LOUNGE, MANCHESTER –
It's a rain-drenched Sunday night and murky, grey Manchester looks like it's turning into mud.  The promoter at The Ruby Lounge is anxiously looking up and down the street for his crowd, but there's barely a soul about.
Discouraging, perhaps, is the fact that the only other person who turns up at the same time as me is another person with a 'plus one' on the Vivian Girls' list.
It's looking quiet as Dirtblonde take the stage for the opener.  Fortunately, people do start to filter in during the duo's set and the effect this has on the energy of the pair is apparent. But they peak a little too late with their feedback-soaked, stunt-guitar-abusing finale.
Next up is Waiters.  Starting with a couple of songs that don't really take off, and seem to stop rather than end, the three-piece are not really grabbing attention.  But when they warm up and hit their stride they're not half bad.
When the main act step up they emerge from the crowd rather than some backstage room.  Right away there's something very unpretentious about them while they still manage to exude an enigmatic air.
Cassie Ramone plucks at a few chords to check her tuning and the crowd know what's coming. Cheers erupt as the Girls plunge in with 'Never See Me Again' from their debut album.
A couple of songs in bassist Kickball Katy is asking the crowd what they'd like to hear, and they suddenly appear a little too laid back.  After a few surprise reactions they confirm they do have a set list and dive back in with a few from their third and latest album, Share The Joy.
Their selection from the album begins with opener, 'The Other Girls'.  Unlike earlier material this sounds a bit more polished and doesn't come at the usual break-neck speed. It's also considerably longer and comes with an extended guitar solo, which Cassie attacks with vigour reminiscent of the late great Cobain.
Their un-pretentiousness also comes to the fore with 'Take It Is As It Comes': an unabashed nod to The Shangri-Las with its conversational opener discussing boy troubles.  It's introduced with a cheeky grin as "one for the girls" and would almost seem quite cheesy but for the fact that the Girls have a captivating don't-give-a-shit attitude.  I had wondered whether it would come off live, but it did.
Unlike contemporaries, Dum Dum Girls and Best Coast, who followed in their wake, the Vivian Girls offer a more stripped down sound that's a bit less cutesy and considerably more punky.  They bristle on stage with energy and aggression and you can feel it.
But, despite a lengthy set – like their albums – it's all over too quickly.  Even with an encore. Katy and drummer Fiona Campbell merge back into the audience while the slightly more awkward Cassie gives a little wave and exits stage left.  There's no danger of them overstaying their welcome. And their performance tonight proves they've got more than enough about them to keep you hooked, and in no doubt there's more to come.